Watching These Troops Hold A Gender Reveal For Fallen Soldier's Baby Will Make You Sob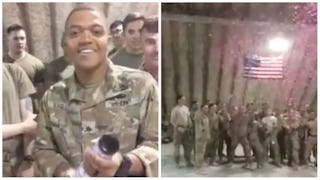 Image via Facebook
He was a proud soldier and daddy-to-be, and his fellow soldiers honored him in the sweetest way
Chris Harris, a Specialist in the United States Army and father-to-be, was tragically killed in August while serving in Afghanistan. His wife, Britt, is currently pregnant with their first child. She and Chris would be celebrating their first wedding anniversary this month.
Only a week before he died, Britt surprised Chris over a FaceTime call with the news that he was going to be a dad. "When I told him, it was the happiest I'd ever seen him," Britt shared with ABC News. "He was so excited."
Tragically, Harris was killed alongside fellow soldier Sergeant Jonathon Hunter on August 2 when their convoy was struck by an improvised explosive device.
Amidst her own grief, Britt never stopped worrying about her husband's fellow soldiers –currently still serving in Afghanistan — whom she says he called his "brothers." She's kept in contact with them, and when she found out the sex of her and Chris's child, she decided they deserved to be the first to know the news.
So she sent them a bunch of confetti poppers with colored confetti hidden inside, and had them record the reveal. Despite the tragic circumstances that lead to such a video, it's one of the happiest and most genuinely sweet moments you'll ever see.
"So, my boy Harris, you know we're going to do it for him," the soldier orchestrating the reveal says. "We're going to see what kind of baby he's going to have. I don't know if it's a boy or a girl, a zebra or a unicorn, but we're going to find out."
There's no way anyone can watch that entire video without the sting of bittersweet tears clouding the view.
Britt is due in March next year, and plans to name her little girl Christian Michelle after her father: Christopher Michael Harris.
"Chris was perfect," Britt Harris tells Scary Mommy. "He was a hero in life, a hero in death, and he clearly lived his life in such a way that left an impact on so many."