U.S. Border Patrol Tear Gasses Crowd Of Migrants Including Toddlers
by Valerie Williams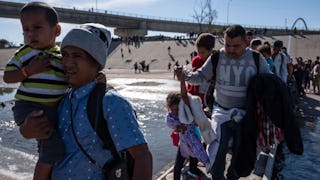 Image via GUILLERMO ARIAS/AFP/Getty Images
Border Patrol threw tear gas into a crowd of migrants that included small children
A confrontation at the U.S.-Mexico border ended in U.S. Border Patrol agents hurling tear gas and shooting rubber bullets into a crowd of migrants. Among those in the group, who have spent the last several days in a stadium in Tijuana while awaiting the chance to apply for asylum, were women and toddlers.
The San Ysidro Port of Entry, the largest border crossing with Mexico, was temporarily closed yesterday after hundreds of Central American migrants got past Mexican police, crossed a river, and marched their way to a pedestrian crossing only to be met with force. As helicopters circled overhead, U.S. Customs and Border Patrol agents sent tear gas and rubber bullets into the crowd.
At least one person actually made it past the border and was apprehended by CBP, according to BuzzFeed News. An anonymous Mexican government official says a total of 30 migrants from the crowd breached the U.S. border and were also apprehended by U.S. authorities. The confrontation reportedly lasted nearly two hours with two separate groups of migrants being hit with tear gas by CBP agents.
The migrants began to march on the border because conditions in the Tijuana sports stadium where they've lived since the caravan began arriving from Central America last week are now intolerable. Joseph Garcia, a father from Honduras, explains to Reuters that the situation is growing more extreme by the day. "They want us to wait in Mexico but I for one am desperate. My little girl is sick and I don't even have money for milk," he says. "I can't stand it anymore."
Along with CBP, the U.S. military has a presence at the border, but officials say they're there to protect CBP agents and aren't armed with pistols. "Department of Defense military personnel will not be conducting law enforcement functions, but are authorized to provide force protection for Customs and Border Protection personnel," a statement from the U.S. Northern Command reads.
It's hard to understand why CBP felt so threatened. Members of the crowd literally included toddlers in diapers, fleeing the tear gas with their terrified mothers.
Meanwhile, our sadistic president has been rage-tweeting about his refusal to help asylum seekers, apparently disregarding the fact that seeking asylum is a legal way to enter the country.
The group of migrants, mostly from Honduras, are fleeing danger and poverty in their home country. Their wait in Tijuana has been so long that their frustration led them to march while some chanted, "We aren't criminals! We are hard workers." They're not being granted permission to even apply for asylum, so it's easy to see why they're growing desperate for better conditions while waiting in the stadium.
BuzzFeed reports that the caravan in Tijuana includes up to 5,157 people with more migrants expected to arrive in the coming weeks. Honduran Julio Ulloa says all they hope for is a chance to enter the U.S. to apply for asylum. "Trump says he won't open the door but God has the last word," he says. He also points out that conditions in the stadium are only going to get worse as time goes on. "People are frustrated," Ulloa said. "We barely fit and there are more people coming."
Which means we can expect to see more horrific clashes between migrants and officials, so the terrifying prospect of even worse violence looms.
How long until it's decided that tear gas and rubber bullets aren't enough?