FDA Vaccines Official Calls US Child COVID Deaths An 'Embarrassment'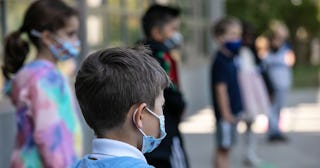 John Moore/Getty
The FDA's Peter Marks says the surge of COVID cases among kids is more than enough reason to make sure children get vaccinated
The FDA's top vaccine official says the number of children suffering from COVID — and heartbreaking number of kids who have died from the virus since the pandemic began — should be a source of national shame.
"In this latest wave of Covid-19, particularly down south, there have been thousands of children hospitalized. And, frankly, it's an embarrassment in a developed country to have even 100 children, like we've had, die of infectious disease that's preventable," Dr. Peter Marks said. He made the comments during a townhall hosted Covid-19 Vaccine Education and Equity Project, and that tragic number he referenced is actually much higher.
The CDC says more than 540 American kids have died of the virus, per the Washington Post.
"It should be zero," one Memphis pediatrician told the Post. "As a community, we're doing very poorly in taking care of each other," Dr. Diego Hijano said.
But the sad truth is that the number of child COVID deaths will inevitably rise even more. Tens of thousands of kids are still getting infected on a weekly basis. For the week ending September 30, the American Academy of Pediatrics (AAP) said about 175,000 pediatric COVID cases were reported. Children are now accounting for about a quarter of all U.S. cases.
Right now, only kids ages 12 and up are eligible to get vaccinated. According to the AAP, however, only about half of them have actually begun receiving their doses. That's the lowest vaccination rate of any age group.
Vaccines for kids ages 5 and up, meanwhile could be authorized by the end of the month — but for them to help end the pandemic and keep kids safe, parents actually need to make sure they sign their little ones up. To that end, Marks had a message for parents who might be on the fence about letting their children get the shot.
"No parent should have to lose their child to a vaccine-preventable illness if we have a vaccine that can be deployed that is safe and effective," Marks explained. "And we will only allow something to be authorized that we find to be safe and effective."
By the time vaccines are available for all kids — the choice may not be up to the parents any more. In California — governor Gavin Newsom has rolled out a mandate that will require any student attending in-person school to get vaxxed, just the way they're already required to get vaccinated against things like measles, mumps, and rubella. Like Marks, Newsom's reasoning was simple: "Vaccines work."