U.S. Government Refuses Migrant Families Flu Shots In Detention Camps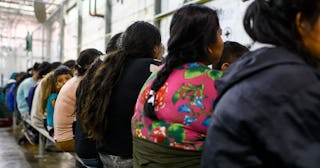 The Washington Post/Getty
At least 3 children have died while in detention from the flu, doctors say
The United States government has no plans to vaccinate migrant families against the flu ahead of this year's flu season. Doctors are urging efforts to fight the flu infection among those being held in the detention camps, particularly children — three of whom have died, in part, from symptoms of the flu in the past year.
"In general, due to the short-term nature of CBP holding and the complexities of operating vaccination programs, neither CBP nor its medical contractors administer vaccinations to those in our custody," a Customs and Border Protection spokeswoman says in a statement to NBC News.
Prior to the Trump administration's migrant detention camps, the United States had previously gone nearly 10 years without any children dying while in immigration custody. During the past 10 months, six migrant children have died in custody.
This past spring, Border Patrol officials temporarily stopped processing apprehended migrants at the agency's largest detention center, in McAllen, after nearly three dozen detainees there became ill with the flu.
"I can tell you from personal experience that child deaths are rare events," Harvard pediatrics professor Dr. Jonathan Winickoff tells NBC News. "When I learned that multiple children had died in detention from potentially preventable causes, it truly disturbed me. The country needs urgent answers to that question so that children stop dying in detention."
The flu killed about 80,000 people in the 2017-2018 season, according to figures released by the Centers for Disease Control and Prevention. The previous high for a regular flu season was 56,000 deaths. The flu shot is essential in preventing the spread of the flu.
The conditions amid the detention camps are a breeding ground for the spread of germs and disease, especially for children — a child can start out with the flu and die from another infection when forced to remain ill in close proximity to others in an unhygienic cage.
Dr. Julie Linton, chair of the American Academy of Pediatrics Council on Immigrant Child and Family Health, says the current conditions of the camps in addition to the lack of flu vaccinations will mean more migrants will needlessly die. Especially because flu deaths are largely preventable with proper health measures.
"There's a number of things that we can do to prevent deaths and infection. Those do not include holding children in cage-like facilities and warehouses," she says.
According to NBC News, a spokesperson for CBP claims there's been a "dramatic increase" in medical personnel working along the southern border. The current vaccination policy for migrants in custody leaves a lot to be desired: migrants who "require vaccination" are referred to local health systems where they "may receive vaccinations … if determined necessary."