U.S. Maternity Leave Really Sucks, And Here's The Proof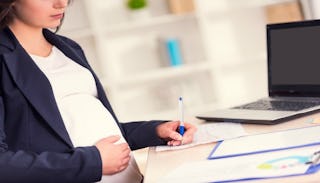 GeorgeRudy / iStock
I was a freelance writer. My husband taught high school. And in October of 2013, we had our third child. A week and a half later, my husband was back to work, and I was left, alone and bleeding, to care for three children under 4. Luckily, my husband worked for a company of more than 50 people, and had for more than a year, so he was eligible for 12 weeks of unpaid leave under Family Medical Leave Act (FMLA). As a contract worker, I got exactly no money, and neither did he, which is why, after a week and a half, he had to go back to work. We couldn't afford to keep him home, since we also needed electricity, shelter, and food.
If you or your partner had a job and then a baby, you're intimately familiar with family leave policies. In the United States, they're guaranteed by the FMLA — 12 unpaid weeks. According to Think Progress, that covers less than half of women. Then there's the quarter of women who either leave their job or get fired when baby arrives, the third who borrow money or use savings, and the 15% who resort to public assistance. A few states have instituted paid leave, or lowered the number of workers needed for a company to offer leave, but mostly, American parents are left with whatever scraps their employers will throw at them. They horde vacation days and sick days to use when the baby arrives.
According to Forbes, the U.S. is one of only two countries that don't mandate any paid maternity leave — the other is Papua New Guinea.
Imagine this instead: You have just given birth, a process for which you are expected to pay exactly nothing. Nurses visit you for up to 28 days postpartum, including the first day back home. If you have a problem, you are expected to dial the midwife on call at your care provider. Finally, you're offered a blissful, entire 40 weeks of paid maternity leave, 6 weeks at 90% wages, and then a fixed rate that varies by country. Dad gets 2 paid weeks of his own and can share 26 weeks himself (paid). Sound like heaven? It's not celestial, it's just the very earthly, very pro-woman, very pro-family, and very generous United Kingdom.
Or imagine this: You've given birth. You're relegated to a semi-private room, but again, it costs you nothing. In most provinces, you're given postpartum visits by nurses who can spot everything from jaundice to postpartum depression. You're also given a generous 15 weeks of maternity leave at 55% pay. You and your spouse can split up to 35 weeks, also paid. For low-income families, the benefits can increase to up to 80% of full salary. Like the UK, same-sex and adoptive parents are eligible for the same benefits. This is what happens for women who live just to the north of the U.S. — women who not only get to call the one and only Justin Trudeau their prime minister, but also get socialized medicine and government-paid maternity leave. Not fair.
Not everyone has fully socialized medicine though, and in most countries, you have to pay something for your birth. In China, availability of prenatal care varies but is mostly free. Women only have one ultrasound, and the C-section rate is 60% to 70%. Costs run anywhere from $292 to $1,022. But afterwards, according to the Chinese tradition, you get 30 days of what's called "sitting the month," during which you don't go outside, take a shower, or drink anything cold. People take care of you and your baby. Sound impossible for U.S. moms? It would be — if the Chinese government didn't give a generous 98 days paid leave, with the rest of the leave being complicated; it's determined by province and can vary from 30 to or 60 more days. Paternity leave is generally a generous (to us in the States anyway) 15 paid days.
But China has nothing — nothing! — on Estonia, who gives paid "parental benefit" to mothers for a world-record breaking 435 days. She makes bank too: The bottom floor is equivalent to $507 U.S. dollars a month, which can climb up to three times her previous year's salary at $3,138 a month. There's also no in-patient fee for childbirth and pregnancy, i.e., it's free. You're also paid a childbirth allowance, a child allowance, a childcare allowance, and a single parent's child allowance, among other things. I think I'm moving to Estonia.
Then you've got Slovakia where women get 34 weeks, with 6 to 8 weeks taken before birth. No working 'til your water breaks in this country! Maternity leave extends if you have twins or are a single parent. You get 65% of daily earnings calculated by the previous year's income. But there's a catch — to get it, you have to have paid into sick insurance for at least 270 days before the birth. There's no qualification for paternity leave — boo! But if you're not eligible, there's paternal leave, which lasts until the child is 3 years old, and longer if the child has a disability, up to age 6. There's also one compassionate caveat I've seen nowhere else (but should catch on): In the case of a stillbirth, a mother is still granted 14 weeks of maternity leave.
So, basically, compared to other countries, the U.S. is shit on maternity and paternity leave. Unless you live in California, New Jersey, Rhode Island, Washington, or New York, you aren't guaranteed one damn cent of paid leave. You can go broke having a baby, and 15% of women do, resorting to public assistance or the WIC nutrition program to make it through. Women lose their jobs. They're left alone with babies before they can adequately care for themselves.
In September, Donald Trump announced his plan to make sure that every working woman had access to six weeks of paid maternity leave. If he keeps his promise, it'll be the first national law guaranteeing pay to postpartum working women. It's not much. It doesn't include paternity leave or any of the other generous benefits offered by pretty much every other country in the world. But it's all we're going to get under the current administration.
So ladies, be grateful for the sops you're thrown. Don't dream of the world where postpartum women and babies are supported and cared for so we can bond and heal without going broke. Or, you know, move to Estonia.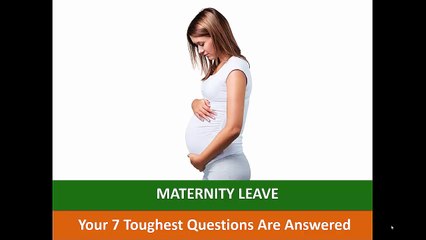 This article was originally published on