U.S. Women's Soccer Team Is Scoring Higher Than The Men's Team Ever Has -- And Is Still Paid Less
by Christina Marfice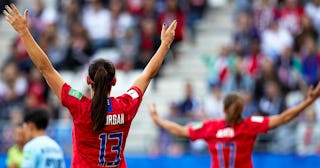 Quality Sport Images/Getty
The record-breaking U.S. women's soccer team should not still be fighting for equal pay to the men's team
In case you've somehow missed this fact, the U.S. women's soccer national team is really good. I mean, really, really good. They're the defending champions at this year's Women's World Cup, and, in fact, they've won three of the seven total Women's World Cup tournaments that have been held since the event was started in 1991. Yesterday, in the World Cup opener against Thailand, they broke every record in existence by winning 13-0. And then there are the four gold medals they won when women's soccer was added as an Olympic sport in 2016. Oh, and they're still fighting for equal pay.
Yep, the women's team, which is incredibly successful and profitable for U.S. soccer, is paid a fraction of what the men's team earns.
For comparison, the 13 goals the women's team scored in yesterday's game alone is more than the men's team has scored in the last three World Cup tournaments combined. Total. There is absolutely no question here about which team is better. And yet, the men earn way more money. In what universe is this even remotely OK?
After the women's team stunned the world with that record-breaking victory (it was the highest margin of victory ever recorded at a World Cup game, as well as the most goals ever scored in a single World Cup match), the internet caught wind of their battle against pay disparity, and took to social media to rightfully shame U.S. Soccer.
To be clear, we're not saying the women's team deserves equal pay because it's objectively better than the men's team. Women deserve equal pay to men in all cases, always. If they do the same job and have similar requirements and experience, they should earn the same amount of money. Full stop.
And in addition to having to fight for equal pay, the women's team is being criticized after their win, with some people saying they shouldn't have scored so many goals because they were showing off or something?
I'm sorry, but would the men's team be told to stop scoring so much if they pushed to break some records? Good lord.
In March, 28 members of the women's soccer national team filed a lawsuit against U.S. Soccer, saying the organization gives them "only lip service to gender equality." The lawsuit accuses U.S. Soccer of gender discrimination, and it's pretty clear that that's the case. After the lawsuit was filed, the men's team even released a statement saying they were totally on board with giving the women's team equal pay.
"The United States National Soccer Team Players Association fully supports the efforts of the US Women's National Team Players to achieve equal pay," the statement read. "We wait on US Soccer to respond to both players associations with a way to move forward with fair and equal compensation for all US soccer players."
So, um, everyone is on board with this except U.S. Soccer, the organization that signs the paychecks. As the women's team continues to dominate this World Cup — because they will continue to dominate — here's hoping the pressure mounts for U.S. Soccer, and fans don't let up on their demands that these amazing athletes get paid what they deserve.