Entire Board Of USA Gymnastics Resigns
by Cassandra Stone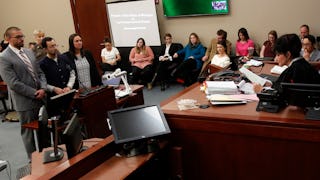 Image via JEFF KOWALSKY/AFP/Getty Images
The U.S. Olympic Committee requested each board member step down
In the wake of Larry Nassar's sentencing and countless heartbreaking testimonies from his abuse victims, the U.S. Olympic Committee delivered an ultimatum to the entire board of USA Gymnastics: resign, or get fired.
Each member complied with the request by resigning Friday. In a statement issued by the committee, CEO Scott Blackmun called for reform. "While the USOC encourages USAG to think and act broadly on reforming its culture, we also believe that reform must start with an entirely new board."
Yesterday, USA Gymnastics issued a statement: "USA Gymnastics will comply with the USOC requirements." Beyond the board resignations, all USA Gymnastics staff members and new board members will be required to complete comprehensive safety and ethics training.
"Our position comes from a clear sense that USAG culture needs fundamental rebuilding," the Olympic Committee's letter stated. "Every athlete connected in any way with USAG must feel safe, supported, and encouraged to speak freely about threats to their safety."
Many people on Twitter are applauding the board resignations.
Several people are giving credit to Aly Raisman for this change, because her powerful victim impact statement called out USA Gymnastics and those she felt were complicit in Nassar's ongoing abuse. "Neither USA Gymnastics nor the USOC have reached out to express sympathy or even offer support," she said. "If over these many years just one adult listened and had the courage and character to act, this tragedy could have been avoided."
For her part, Raisman responded directly to Blackmun and the Olympic committee, calling for an independent investigation to uncover the "full extent of the problem" to understand "exactly what happened and why" in order to move forward and exact effective reform within the organization.
If Aly Raisman isn't immediately put in charge of the USA Gymnastics board, she's got my vote for 2020.
This article was originally published on