The USDA Is Recalling 5.1 Million Pounds Of Beef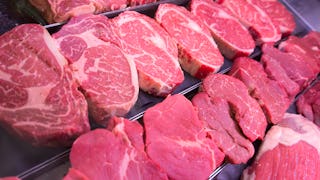 Image via Kryssia Campos/Getty Images
This is the second recall on beef since October
Taco Tuesday is officially on shaky ground, y'all — lettuce was recalled recently (though it's now said to be safe, but still, EW) and now, we have to worry about beef.
The USDA recalled 5.1 million pounds of beef (that's a lotta burgers and tacos) amid fears of salmonella contamination. The move was announced Tuesday by the Department of Agriculture's Food Safety and Inspection Service and it's the second recall of its kind in recent months (in October, 6.5 million pounds of ground beef were recalled). JBS Tolleson is the company behind the recall and it includes "raw, non-intact beef items, including ground beef" packaged "on various dates from July 26, 2018 to Sept. 7, 2018."
That means in total, 12.1 million pounds of beef have been recalled by JBS Tolleson, an Arizona-based company.
"The products subject to recall bear establishment number 'EST. 267' inside the USDA mark of inspection," the recall notice cautions. "These items were shipped to a retail locations and institutions nationwide."
The extension of October's recall comes as officials continued to investigate the cause of outbreak of Salmonella Newport illnesses. The recall states that "246 confirmed case-patients from 25 states with illness onset dates ranging from August 5, 2018 to October 16, 2018" have been discovered so far. "An additional 16 case-patients have provided receipts or shopper card numbers for the product traceback investigations. Specific traceback for three case-patients have identified JBS Tolleson, Inc., EST. 267 ground beef products that were not part of the October 4, 2018 recall. FSIS will continue to work with public health partners and provide updated information should it become available," they explain.
The complete list of recalled items is extensive, but includes Walmart's Showcase brand, Cedar River Farms Natural Beef, Gourmet Burger, and Grass Run Farms Natural Beef.
We don't need to tell you that salmonella isn't fun. Symptoms include unpleasant things like fever, diarrhea, and abdominal cramps. They can linger for 4-7 days, and though most people infected won't require medical treatment, nobody wants to be sick for a week. That's why the USDA is making sure consumers stay safe by recalling questionable meat.
The recall advises that any product found that's part of this recall should be thrown away or returned to the place of purchase. Stay safe, everyone — and maybe do chicken tacos for a few weeks.