Use 'Would You Rather' To Plan Your Perfect Florida Family Vacation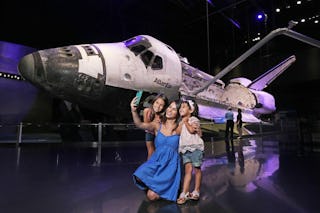 NOT FOR EDITORIAL USE. Shuttle Atlantis Exhibit at the Kennedy Space Center Visitor Complex -- Photo by Patrick Farrell and Peter W. Cross
It's been quite a year for us moms, huh? And now it's finally time to start planning your epic Florida vacation. Florida is affordable, easy to get to, and well-known for sending folks home happy, so it's clearly the best choice for a long-overdue family getaway. There's just one teeny tiny problem. With practically limitless options to explore, how will you ever decide which destinations are "absolute musts" and which are "save it for our next trip"?
Here's an idea: a little game of "would you rather" that can help you narrow down your family's options and have some fun doing it.
Ready? Gather the gang and get started!
Would you rather … get up-close and personal with an alligator or explore the streets of the oldest city in the U.S.?
If you have adventurous types in your family, Crocodile Crossing at St. Augustine Alligator Farm Zoological Park was made for you. Visitors can zipline through the treetops over seven acres of wildlife — emphasis on the wild. The aerial eco-adventure lets Tarzan-wannabes glide over alligators, crocodiles, and red-ruffed lemurs while they hang at eye level with colorful tropical birds.
Or, you can head a few minutes down the road to Historic St. Augustine and explore four centuries of history in the nation's oldest city. Visit the Oldest Wooden Schoolhouse, take a sip at Ponce de Leon's Fountain of Youth, or just wander the narrow streets searching for treasure in the form of a tasty seafood lunch at one of St. Augustine's many sidewalk cafes.
Would you rather … tour a Saturn V rocket or test your roller coaster stamina?
Even if your family doesn't technically include rocket scientists, a visit to Kennedy Space Center on Florida's Space Coast delivers an inspiring, hands-on experience of the history of humans in space. Find out what it really takes to be an astronaut in the Center's Astronaut Training Simulators, or experience liftoff with the Shuttle Launch Experience. Or chill out with wine, beer, or coffee while you watch the kids explore Planet Play: an indoor, multilevel play area with a huge variety of immersive experiences including sliding through an asteroid field, navigating a wormhole, and skipping across Saturn's brilliant rings.
Got certified thrill seekers in your crew? You may have heard a little something about Florida's theme parks and the adrenaline-pumping rides they're known for. Accelerate from zero to 40 mph in two seconds flat while you're propelled upside-down into a weightless zero-gravity roll on The Incredible Hulk Coaster at Universal's Islands of Adventure. Sea World's Kraken coaster is consistently rated as a top 10 ride by serious coaster enthusiasts and bills itself as "Orlando's only floorless roller coaster." And for family members who prefer to sit out the hardcore coaster rides, Florida's theme parks offer every possible alternative — from fairytale castles at Disney World to iconic building blocks at Legoland.
Would you rather … hunt for shells on a beach or snorkel in a crystal-clear natural spring?
When you think of a Florida vacation, we're about 98% sure the sandy beaches are one of the first things that come to mind. If you're looking for a low-key, laidback beach experience, you can't beat beachcombing at Florida's legendary Sanibel Island. The spot is so beloved by shellers that the bent-over shell-seeking position is known as the "Sanibel stoop." From Marco Island to Anna Maria Island, no two beaches offer the same selection of shells, so you really can't miss.
Or you can go inland to snorkel at any of Florida's freshwater springs. Three Sisters Springs offers snorkeling, swimming and paddling in some of the state's most crystal-clear waters. Or visit one of the seven sparkling "gin-clear" springs at Ginnie Springs, one of Florida's standout snorkeling and diving spots. Just a two-hour drive from Orlando, Tallahassee, or Jacksonville, it's easy to access and does not disappoint.
The "official" rules for Would You Rather say you can't answer "both" or "neither." Our recommendation? Throw those rules straight out the window. Because Florida practically guarantees fun for families, no matter where you decide to go. It's the stress-free answer for a vacation where you actually can please all of the people, all of the time.
VISIT FLORIDA is Florida's official travel planning source for visitors across the globe. Check out the VISIT FLORIDA website to learn more and start planning a vacation your family will be talking about for years to come.
This article was originally published on