Utah Family Mad After Getting Turned Away From Hawaii Over Wrong COVID Test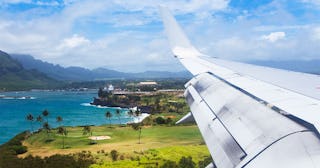 Matthew Micah Wright/Getty
One Utah family was turned away from their Hawaiian vacation after they got COVID tested at the wrong place
During the coronavirus pandemic, Hawaii essentially banned all travel by enforcing a two-week quarantine period for all travelers to the island. Most people didn't want to quarantine that long, so basically nobody went to Hawaii and because of this, the island state saw very few COVID cases with its worst day creeping into the 200's of cases. However, on October 15, 2020, Hawaii announced that you could vacation in the aloha state again if you showed a negative COVID test upon arrival, but one Utah family heading to Maui didn't follow the state's COVID rules perfectly and were turned away at the airport.
Per, GoHawaii.com, Hawaii will only accept test results from an FDA-authorized nucleic acid amplification test (NAAT) and that it must be administered at one of its "Trusted Testing and Travel Partners," which means that you can't just get any old COVID-19 test, it has to be from an approved vendor. For the Alexander family from Utah — who claim they did test negative for COVID-19 — unfortunately, they did not get tested at a "trusted testing and travel partner," so not surprisingly, they were told to fly back home.
Even though the family did not follow the rules (and I might add, rules put in place to keep everyone safe BECAUSE WE'RE IN THE MIDDLE OF A PANDEMIC), the Utah family was so mad at Hawaii for kicking them out.
"This just blew us away, how they treated us," Pam Alexander told KUTV. Gate agents in Hawaii reportedly told the Alexanders that the COVID testing site they used in Utah was not on the Hawaii-approved list. Apparently, the family even checked Hawaii's list of approved COVID vendors before the trip but were upset that the nearest approved COVID testing site was in Las Vegas. So instead of seeing the writing on the wall and accepting that maybe a Hawaiian vacation wasn't in the cards, the family called the state of Utah and some Utah officials told them they could get tested near their home. Then when they showed up in Maui, the gate agent was like, Yeahhhh, no, who told you to get tested here?
"They just said it's not on our approved list and so we can't let you in and there's nothing we can do," Robb Alexander said. It just seems like, if Hawaiian officials are like, click here to find out where you can get tested and you don't do that and you call someone from Utah instead even though Hawaii is like, no, I'm serious, literally just follow these rules on our website and don't try to call some rando from Utah state.. I feel like that's on you? No?
Anyway, the Alexander family had to get on a plane and head back to Utah but not before vowing to never again return to Hawaii. Yes, tourism is a large part of Hawaii's economy but also it's an island that did a fantastic job keeping its covid cases down and its citizens safe and oh, I dunno, maybe that's why they're so strict about who can vacation there?!? Also, just like, follow the rules and there won't be a problem. Seems pretty simple.
This article was originally published on