Utah School Allowed Parents To Opt Out Of Black History Month Curriculum
by Julie Scagell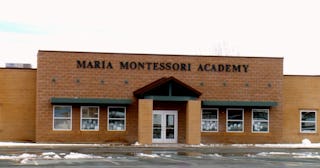 Fox 13
The school has since rescinded the option
A public charter school in Ogden, Utah came under fire earlier this month when it told parents they could have their kids opt out of Black History Month curriculum.
Maria Montessori Academy Director Micah Hirokawa announced the decision on the school's private Facebook page, according to local news outlet the Standard-Examiner. That post has since been deleted. In it, Hirokawa wrote that he "reluctantly" sent a letter to families stating that administrators were allowing them "to exercise their civil rights to not participate in Black History Month at the school," noting that a few families inquired about the option for their kids to opt out.
"We should not shield our children from the history of our Nation, the mistreatment of its African American citizens, and the bravery of civil rights leaders, but should educate them about it," Hirokawa said, adding that the request from families "deeply saddens and disappoints me."
Hirokawa also told the Standard-Examiner that Black History Month is being incorporated into its regular social studies and history lessons in February, noting that they are looking for ways to celebrate the achievements of African Americans in history.
According to the Utah State Board of Education, only three of the 322 students at the academy are Black.
Lex Scott, the founder of Black Lives Matter Utah, said the decision, which has now been overturned, is abhorrent.
"You can't opt out of black history. Black history is American history," Scott said. "So, it absolutely comes from a place of racism and ignorance."
According to Utah law, parents can have their kids opt out of portions of curriculum based on religious beliefs or right of conscience. But a representative with the Utah State Board of Education clarified with FOX 13 that "no student can be waived from state Social Studies Standards, which includes a focus on U.S. history, inequality and race relations."
Hirokawa sent another email to parents over the weekend apologizing for the option to opt out of Black History Month and noted the school has now officially rescinded that offer. The email states that "at this time no families are opting out of our planned activities and we have removed this option."
"I was appalled to see the form sent out that allows parents to opt their kids out of this and to hear that this is all because some parents have requested it," said Rebecca Bennett, a parent of students at the school, said in a comment on the post. "I echo others who are disappointed to hear this was even ever made an issue in the first place by some families in our school's community."