Substitute Teacher Tells 5th Grader That Having 2 Dads Is 'Nothing To Be Thankful For'
by Julie Scagell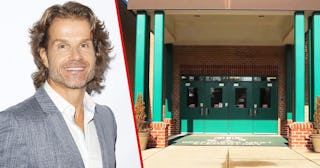 Michael Tran/Getty and USAToday
The teacher was immediately removed after students told the principal what she said
A substitute teacher In Utah has been fired for telling a class of fifth-graders that "homosexuality is a sin" after hearing one of the students was thankful for his two dads.
During the week before Thanksgiving, the sub was filling in at Deerfield Elementary School in Alpine School District and asked students: "What are you thankful for this year?" Among the usual pets, toys, and baby brothers, one 11-year-old student responded with, "I'm thankful that I'm finally going to be adopted by my two dads."
According to the boy and many students in the classroom, the teacher immediately said, "Why on earth would you be happy about that?" then lectured the kids about her opinions on the matter, saying things like "homosexuality is wrong" and "two men living together is a sin." She then looked at the boy and told him: "That's nothing to be thankful for." Three girls from the class went directly to the principal and the teacher was immediately removed from the classroom.
One of the boy's dads, Louis van Amstel, a former dance coach on Dancing with the Stars, posted about the incident on social media after his son told him what happened. He said in part, "you can imagine that set us off and we are not letting this go."
He later told The Salt Lake Tribune last week that he appreciates the other students stepping in to defend his son, saying, "It's absolutely ridiculous and horrible what she did. We were livid. It's 2019 and this is a public school."
Van Amstel also said their son was scared to speak up to the teacher because he's had two failed adoptions before and heartbreakingly didn't want his dads to rethink their decision based on the teacher's comments. Their son's adoption will be finalized on Dec. 19.
Kelly Services announced in a statement Monday morning that after an investigation into the situation, it "made the decision to end the employee's relationship with Kelly Services. We are concerned about any reports of inappropriate conduct and take these matters very seriously."
Ben Rasmussen, director of law and professional practices at the Utah State Board of Education, told The Tribune individual school districts are "encouraged to have their own policies" with regard to regulating substitute teachers. The only statewide mandates in Utah are that schools can't hire teachers as substitutes whose licenses have been suspended or revoked.
"I'm so proud of Daniel's school," van Amstel continued on Twitter. "Not only did they let go of the teacher, they said this woman is never going to teach in this school ever again." Although this was an absolutely devastating thing for their son to go through, it's clear he has two loving parents and a support system within his school standing up to bullies of all ages.