Now Is Not The Time To Delay Your Kids' Vaccines
by Caila Smith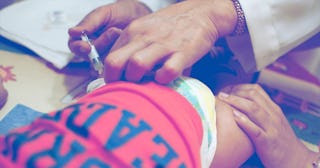 Scary Mommy and Karl Tapales/Getty
Just a few weeks ago, I had to take my two-year-old daughter to the ER following a fall during this bonkers COVID-19 pandemic. I hated having to do it because of the possible exposure she and I could potentially face, but there were no other options for us in that terrifying moment. Aside from many tears, blood draws, and some gnarly bumps and bruises, thankfully, she was okay. While we were there, though, I couldn't help but to notice how bare and empty the hospital's hallways and parking lot were compared to what they usually are.
I mentioned my observations to one of our nurses upon my daughter's discharge, and to no one's surprise, she said what had been in my heart this whole time: "Nobody is coming in to be seen, because nobody wants to be exposed to COVID-19."
Ever since the COVID-19 pandemic first started, physicians and parents have had to find creative ways to provide and receive medical care. Whether this new form of care comes from a telehealth visit, an in-depth phone call, or even emails, doctors' offices across the nation have had to make accommodations when treating non-emergent cases in healthcare for the sake of everyone involved. But it would seem that these newer ways of treatment do not always suffice when a child needs what only an in-person visit can provide. Specifically, appointments that are as timely and necessary as immunization visits.
"Because of personal, practice, or community circumstances related to COVID-19, some providers may not be able to provide well child visits, including provision of immunizations, for all patients in their practice," the CDC says on their website about maintaining immunizations during the pandemic. "If a practice can provide only limited well child visits, healthcare providers are encouraged to prioritize newborn care and vaccination of infants and young children (through 24 months of age) when possible."
But as some have come to learn, much like Indiana mother of two Janelle Walker, finding a pediatrician's office that will do immunizations right now hasn't been the easiest of quests.
When Walker called her son's primary care physician to schedule his first round of shots, she was originally told that there wouldn't be any openings until June — putting him two whole months behind where he should be with immunizations. After spending some time trying to figure out how to get her son immunized in a timely manner, she called the pediatrician's office back to see if anything had changed, only to be informed that all of their openings had been pushed back until August — which would put her son four months behind where he should be with his immunizations at six months old.
"I do not want him getting behind on [immunizations] making it harder to catch up in the future. There is still an adult in the household working and indeed [COVID-19] is a serious threat," Walker tells Scary Mommy. "There are also other diseases my son could be exposed to that could be life threatening without being vaccinated."
Infants have to surf off of herd immunity before they are able to receive vaccinations. For that reason, younger babies are one of the most vulnerable age groups to not only contract a communicable disease, but also to develop serious disease-associated complications. With immunization schedules tailored to fit your infant's age-specific immune system, immunizations act as a "helmet for your baby," the CDC says.
It can take weeks for a child to develop the protective disease-fighting antibodies needed to build up an adequate resistance. And though some parents choose to space out these immunizations for their own personal reasons, there is absolutely no data suggesting that delayed vaccinations are effective at creating immunity from serious diseases.
"The recommended immunization schedule is designed to offer protection early in life when babies are vulnerable and before it's likely they will be exposed to diseases," said Dr. Nancy Messonnier, Director of the National Center for Immunization and Respiratory Diseases (NCIRD), Centers for Disease Control and Prevention (CDC).
Parents are understandably cautious about making the trip to a doctor's office right now. According to The New York Times, many pediatric offices have closed their doors or reduced their hours, making immunization appointments harder for parents to secure. With both of these factors combined, experts are worried about the effect this could have on a child's health.
As The New York Times reports, PCC, a pediatric software company, analyzed vaccination data from 1,000 independent pediatricians across the country. In their findings, some major disease-fighting vaccinations administered during the week of April 5 were down nearly 75% when compared to the week of February 16th, the "pre-coronavirus baseline." HPV leads with immunizations down 73%; measles, mumps, and rubella were down 50%; and whooping cough and diphtheria immunizations down by 42%.
"We know our vaccine rates were already tenuous, so any additional hit to that is a great worry," Dr. Elizabeth Meade, president of Washington's chapter of the American Academy of Pediatrics, tells The Times.
If you are a parent with a child who is in need of their immunizations but their primary care physician isn't accepting well child check-ups at this time, please understand that you're not without hope in this situation. Doctors and hospitals recognize the importance of timely vaccines, and there are other ways to get your child what they need, such as:
— Asking your child's pediatrician if there are other offices nearby that provide well baby check-ups.
— Calling your local health department.
— Researching drive-up and neighborhood vaccination locations in your area.
"I think the biggest thing that parents need to know is that pediatrician offices are open. We are here because we want to take care of the children and we will take care of them any way we have to," Dr. Sara H. Goza, M.D., president of the American Academy of Pediatrics (AAP), tells People regarding immunization schedules during a pandemic.
Yes, we're living in a pandemic right now, and at times, it's beyond frightening. But we can't forget about the other diseases out there that caused pandemics (much like the very one we are living) before our time — diseases which can be prevented through proper administration of vaccines.
Vaccinating. Your. Child. Is. Essential.
This article was originally published on