There Are Summer Camps Refusing Admission To Unvaccinated Kids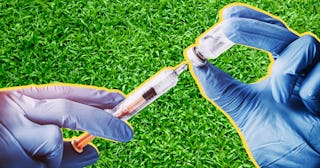 Scary Mommy, scyther5/Getty and Gravitylicious.com/Pexels
If your child's heading to camp this summer, you might need to provide vaccine proof along with sleeping bags and bug spray
The school year might be over, but the vaccination issue continues to heat up this summer. Several summer camps across the United States are hoping to keep the current measles outbreaks at bay by requiring campers, as well as staff members, to prove that they're vaccinated — even if they have religious objections.
The American Academy of Pediatrics is one of the driving forces behind this trend, publishing recommendations this week for health and safety practices at summer camps. One of them is that all campers and staff should be up to date on their immunizations, no ifs, ands, or buts. "Nonmedical exemptions to required immunizations are inappropriate, and these exemptions should be eliminated by camps. Participation by campers and staff who are incompletely immunized or unimmunized because of nonmedical exemptions is inappropriate for individual, public health, and ethical reasons," they caution.
"It's fair to say that a lot of camps that perhaps were accepting things like religious and philosophical exemptions have made the decision not to accept those," Lauren Rutkowski, the owner and director of Camp IHC in Pennsylvania, told CNN. She added that they "always review medical records as they come in, and we really have been double-checking more of the international staff members' medical forms because different countries have different ways of submitting them."
This year, her camp is taking things one step further, by making sure that all the other camps they participate in inter-camp sports with are also following the same procedures.
Earlier this week, the US Centers for Disease Control and Prevention revealed that the measles outbreak is continuing to grow. A whopping 1,044 people in 28 states have been diagnosed this year alone, which is pretty depressing considering that as of 2000, the disease was considered eliminated.
In New York, the epicenter of the measles outbreak, the situation is most worrisome. The state's governor, Andrew Cuomo, recently signed a bill requiring all children to be vaccinated statewide, despite any religious objections.
Many of the children from the orthodox Jewish communities where the measles have been thriving, head up to camp in several counties north of New York City. This year, those counties have been taking extra steps to ensure that all campers are up to date with their vaccinations.
"We have to make sure our t's are crossed and our i's are dotted in making sure all these vaccination records are in and have been fine-combed through to make sure everything is in compliance," Rabbi Hanoch Hecht, of Ulster County's Camp Emunah, which hosts many girls from a Chabad community in Brooklyn's Crown Heights, told the AP. "In the past where we accepted religious exemptions for certain things, now we cannot."
Rabbi Dovid Teichman, director of Camp Govoah, a camp catering to Orthodox campers in rural Greene County, said staffers were extra thorough with applications this year, making sure everyone had been vaccinated. "I can't jeopardize anybody," he said. "So if I find somebody that's on the list that's not vaccinating, I'm not taking them into camp."
So as a parent, what can you do to make sure your child doesn't get the measles at summer camp? Well, for one, make sure they are up to date on their vaccinations, because DUH. And two, make sure you are sending them to a legit camp accredited by the American Camp Association.
While a recent study published in the Journal of Pharmacy Practice found that the MMR vaccine was among the vaccinations required or recommended for campers by at least 80% of camps in New York, keep in mind that many camps aren't accredited and aren't required to follow the rules.
Susie Lupert, executive director of the American Camp Association's New York and New Jersey region, points out to CNN that "there are thousands and thousands of camps across this country that are unregulated — they're not licensed; they're not keeping track of medical records; they're not doing background checks on staff — and there's lots of loopholes for how a camp can get away with this."
Scary, right? So yeah, do your research folks, and everyone should be fine.
This article was originally published on