COVID-19 Vaccine Line-Jumpers Are Human Skidmarks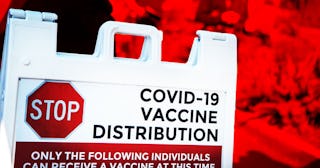 Scary Mommy and Jason Armond/Los Angeles Times/Getty
After what was quite possibly the darkest year in our lifetime, the start of 2021 brought a sense of hope. A sense of optimism. A feeling that we might, finally, turn the damn corner on this nightmare. And that newfound ray of sunlight was brought to us, in large part, by the initial rollout of a COVID vaccine.
We knew it wouldn't be available for all of us at first, nor should it. Frontline medical workers in the trenches of this pandemic should absolutely go first. Teachers and other essential workers should be prioritized. The elderly, the immunocompromised, and the most vulnerable of our population should definitely get their vaccine before someone like me, a healthy 40-year-old who works from home.
Of course I'm anxious for my vaccine. I dream about finally hugging relatives I haven't seen in a year. Or going on a date with my husband. Or taking my kids on a vacation. Or even just spending an hour at the hair salon. But I'll wait my turn, knowing that all of those things can wait, and will wait, until it's fairly my turn to sign up and get my shot in the arm.
However, as usual, the ugly side of humanity has reared its ugly head again, and this time, it's in the form of entitled asshats who jump vaccine lines.
Perhaps one of the most despicable examples is that of casino executive Rodney Baker and his wife, actress Ekaterina Baker, who, according to USA Today, "chartered a plane to a remote community in Canada where health workers administered vaccines to vulnerable members of the White River First Nation." And as a strategy to get themselves vaccinated, they apparently posed as local motel employees and received their shots. Thankfully, they face fines for their vile behavior, but honestly, when you're depraved enough to steal vaccines from at-risk Native Americans, you're probably beyond saving and a fine won't matter much.
"These actions are a blatant display of disrespect and an exemplification of true privilege and entitlement," Kluane Adamek, Yukon Regional Chief of the Assembly of First Nations, said in response. "A selfish millionaire and his wife stole doses of the vaccine from a vulnerable population, and put an entire community, nation and region at risk."
Other stories, like the one about a 22-year-old Philadelphia student running a vaccine distribution sign-up who got caught stealing and administering vaccines to his friends are coming to light as well. Or reports of medical workers with access to vaccines doing the same. Or of doctors receiving $10,000-20,000 bribe offers from celebrities and wealthy Americans in the hopes of cutting the line.
Another way the vaccine rollout has allowed for unfair line-jumping is due to its reliance on technology. Because guess who's often not the most tech-savvy? The elderly—a population who is also among the most vulnerable.
An article on NPR entitled, "'Just Cruel': Digital Race For COVID-19 Vaccines Leaves Many Seniors Behind" highlights this issue and analyzes how older Americans are getting lost in the technological shuffle.
"Glitchy websites, jammed phone lines and long lines outside clinics have become commonplace as states expand who's eligible — sometimes triggering a mad dash for shots that can sound more like trying to score a ticket for a music festival than obtaining a life-saving vaccine," the article explains.
We all know that mad dash—that race for tickets the minute they go on sale. We refresh our computers or phone apps over and over, desperately trying to score a couple seats. Only this isn't a concert, it's a pandemic. And it's not a bunch of Millennials who know how to work the channels. It's their parents and grandparents and they're just trying to stay alive.
For example, the article tells of Helen Francke, 92, who logged on for a vaccine at the designated time, only to learn that the spots available in Washington, D.C., filled up "almost instantaneously."
"It was evident that I was much too slow," she says. "It's terribly competitive and clearly favors those with advanced computer skills."
The fact that a digital divide, combined with greedy, morally devoid line-jumpers are taking vaccines away from those who need them the most is, frankly, heart-breaking. Because here's the truth—this system relies, in large part, on the honor system. It relies on people doing the right thing. (Much like mask-wearing and social distancing.) It relies on people actually thinking of others, not just themselves. It relies on us, as human beings telling the truth, not faking health conditions we don't have because a vaccine is available in our area for those with that health condition. Rather, we, as human beings, should be grateful we don't have whatever health condition puts our neighbors higher on the list, and wait, at home, with our healthy bodies, until it's our turn.
ABC17 News, a local news outlet in Missouri, reported that first responders and those in the medical field are given first priority, but the local health department is relying on people's integrity, not tangible proof of occupation.
"When getting vaccinated, the area health department asks for people's jobs and positions to verify if they are a health care workers or first responder," says Sara Humm, of the Columbia/Boone County Health Department. "No IDs or medical records are checked…the health department is relying on people to be honest."
Humm goes on to say, "I know people are panicked, and they're feeling frustrated, but again we're asking folks to be considerate to our fellow community members who are at higher risk."
Remember this if you're tempted to skip the line or if you see an opportunity to scam your way onto a vaccine list you shouldn't be on. Think of your parents, your grandparents, your aunts, your uncles. Think of the immunocompromised children in your community who likely haven't played with another child in a year. Think of the doctors and nurses who have dedicated their lives to saving yours. Think of the teachers scooping up tiny preschoolers into their arms who are sad or scared or who are trained to shield their students from bullets by barricading the door.
You could be stealing the vaccine from any one of them as you weasel your way into that vaccine clinic before it's your rightful turn.
Like every other aspect of this pandemic, health officials are asking us to remember that our choices don't just impact us. The choice to not wear a mask. The choice to host a party with 25 people. The choice to ignore symptoms of COVID and still go out into the community. And, now, the choice to scam an imperfect system and take advantage of people just trying to do their best to rid the world of COVID-19. All of these incredibly reckless, selfish choices impact others.
That's the thing about a pandemic—it requires a community effort. It requires us to care about the greater good. And it definitely requires us to not be assholes who steal vaccines from others who need them more than we do.
This article was originally published on