When Can We Expect A Vaccine For Kids Under 12? Trials Are Moving Into The Next Phase
by Virginia Duan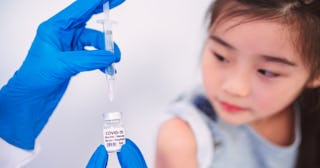 Tang Ming Tung/Getty
There's good news for those of us with children under 12 years old. Currently, adolescents 12 years and up can get the COVID vaccine, but children younger than that are still waiting. As expected, COVID rates are falling in areas with high vaccination rates — an integral part of fighting the pandemic — so parents are eagerly awaiting when they can protect their younger children. Earlier in June, Pfizer shared details regarding their COVID-19 vaccination trials in young kids. They've already completed Phase I clinical trials and are now proceeding to Phase II and III lower-dose trials in six-month-olds to 11-year-olds.
What does this next phase mean?
Because children are 8,700 times less likely to die than adults over 85 — and less likely than adults in general to have a severe case of COVID, drug companies are trying to find the best balance of maximizing vaccine benefits and minimizing its side effects. As a result, Pfizer and its German counterpart BioNTech are testing the vaccine at lower doses in grade schoolers than teenagers, and at even lower doses for younger children.
This strategy is called "age de-escalation" and is common practice for drug companies. In early-phase trials, vaccines are first administered to healthy, non-pregnant adults. When that is deemed safe, vaccines are then tested on younger and younger children to ensure that it's safe and effective at producing antibodies. The final target is seeing if the vaccine is safe for infants.
Since COVID can also kill children, in particular children who have underlying health issues, inadequate access to health care, or complications like MIS-C, it's especially important for the health of our children as the U.S. begins opening up and loosening more and more restrictions now that it's summer.
What will be tested?
Pfizer-BioNTech has already received authorization to provide vaccines to adolescents in the U.S. after studying the vaccine and its effects in 2,260 kids aged 12 to 15 years old. According to their trials, the vaccine helped teens develop an antibody response to COVID-19, was safe, prevented infections, and had no intolerable side effects.
The drug companies have also completed a small Phase I study on about 100 children to determine the best dosage that balances evoking an immune response and manageable side effects. No results were released so we will have to wait until September or October when Pfizer said they'll request an Emergency Use Authorization from the FDA.
As is common with clinical trials conducted in children, the testing groups are split into one of three: 5 to 11 years old, 2 to 5 years old, and 6 months to 2 years old. The doses Pfizer-BioNTech are testing in the next phase are lower than the adult or teen dosages — mostly because during vaccine development, different doses are tested to find the lowest effective dose for each age group.
Pfizer-BioNTech is now enrolling approximately 4,500 children aged 5 to 11 years old in Phase II and III trials. The trial sites are slotted for the U.S., Finland, Poland, and Spain. In addition, the trials for children aged 6 months to 4 years are expected to start soon as well. If you would like to volunteer your child for a Pfizer-BioNTech trial, click here.
The other two authorized COVID vaccine drug companies, Moderna and Johnson & Johnson, are also currently conducting trials in children.
When might we expect to have a vaccine ready for younger kids?
Pfizer-BioNTech stated they plan to submit Phase II and III trial results to the Food and Drug Administration (FDA) in September or October. That's when further information about the safety and efficacy as well as side effects of the COVID vaccine in children aged 6 months to 11 years old will be released. Though the vaccine won't be available for younger children in time for the start of the 2021-2022 school year, it may be available by the end of 2021.
Once Pfizer requests an Emergency Use Authorization from the FDA, the FDA will convene an emergency meeting of independent experts and examine the safety and efficacy data from the clinical trials. Most likely, the FDA will first review the results for ages 5 to 11 years old, and then move on to the younger groups. If the FDA determines that the benefits to administering the vaccine outweigh the risks, then an expert panel at the Centers for Disease Control and Prevention (CDC) will review the data as well. If the CDC authorizes it, various State panels will decide whether or not they will expand the eligibility requirements.
The decisions to authorize COVID vaccines in different age groups will likely be spaced out, starting with the older groups. The entire process from start to finish will likely take several weeks — so please be patient.
In the meantime, keep your younger children safe from COVID by making sure they are up to date on all their vaccinations as soon as possible. Follow the CDC guidelines for COVID and ensure they cover their faces with a mask, avoid crowded spaces, choose areas with good ventilation — especially outside — and constantly wash their hands or use hand sanitizer with at least 60% alcohol.
Information about COVID-19 is rapidly changing, and Scary Mommy is committed to providing the most recent data in our coverage. With news being updated so frequently, some of the information in this story may have changed after publication. For this reason, we are encouraging readers to use online resources from local public health departments, the Centers for Disease Control, and the World Health Organization to remain as informed as possible.
This article was originally published on