Valedictorian's Mic Cut Off When She Mentioned Trayvon Martin In Her Speech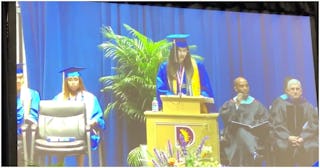 Twitter
Just as a valedictorian mentioned Trayvon Martin And Tamir Rice in her speech, she was cut off
Rooha Hagher, the 2019 valedictorian of Emmett J. Conrad High School, was cut off when she tried to reference two unarmed young black men who were shot and killed. Video footage shows her principal signaling for the microphone to be turned off, forcing Hagher to leave the stage without finishing the speech. Thankfully, the valedictorian took to Twitter to share her story and attach a copy of her powerful, important words.
Hagher posted a clip of her speech online, which very clearly shows her principal mouthing to turn off the microphone just as she said: "To Trayvon Martin, Tamir Rice, and all the other children who became victims of injustice." The principal headed to the podium and pretended that there had been some sort of issue with the mic, while everyone cheered for Hagher.
"My valedictorian speech was cut short because i said the names of black children who had become victims of police brutality. our principal signaled for my mic to be turned off as soon as i said 'trayvon martin and tamir rice' and played it off as a technical difficulty," Hagher tweeted. "Pathetic."
Hagher explained in a statement on Twitter that she had been instructed to remove the names of the victims before delivering the speech for quite possibly the most ridiculous reason.
"When I first read my speech to my teacher a week ago, I was told mentioning those names will incite anger towards white people, a group which according to him experience high levels of discrimination in America," Hagher recounted."He advised me to take that line out completely."
The valedictorian grappled with how to handle the situation and decided that she wouldn't be censored by school officials.
"The day of graduation, I had a choice to make," she wrote. "Do I read the censored speech in the binder or speak the words I had originally written? I knew none of the consequences I could possibly face came even slightly close to what the families of the victims have to live with on a daily basis…I knew the risk I was taking but never expected to be silenced."
The clip of Hagher being cut off has since been retweeted nearly 50,000 times. Thousands of comments have poured in, thanking her for speaking out for the black victims of police brutality.
https://twitter.com/jetpack/status/1135791335246618624https://twitter.com/jetpack/status/1135677003867336704
This isn't the first time school officials have tried to censor graduation speeches. Just last year, another valedictorian's speech was cut off after she discussed sexual assault on campus.
Here's how powerful Hagher's speech would have been. She started out by paying tribute to all of the students who were "robbed" of the opportunity collect their diplomas, including the kids who had to drop out of school to help their parents financially, the Baha'i children in Iran who are being denied an education, and the kids who have been killed in mass shootings.
And, she said, "To Trayvon Martin, Tamir Rice and all the other children who became victims of injustice…I'm sorry."
Her final words really hit the nail on the head. "You see, tonight is a celebration of our achievements, yes. But it is also a reminder of all the work that needs to be done," Hagher said. "And as such, I hate to say this, 'class of 2019, we just might be the future.' So no matter which plan you take in life or where you end up in the next decade, remember you have an obligation to your community, and to the world at large."