Valedictorian Banned From Making His Speech Makes It Outside — With A Bullhorn
by Jerriann Sullivan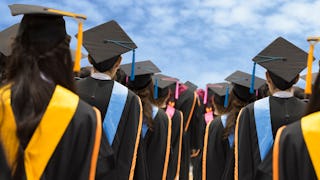 Image via nirat/Getty Images
Valedictorian gave graduation speech outside when school banned him
A high school valedictorian took his speech outside when his school banned him from giving it during the ceremony because they didn't like its content. Christian Bales, who just graduated from Holy Cross High School in Crestview Hills, Kentucky, wrote a speech about teens and young people feeling empowered, which school officials deemed inappropriate for a room of 17 and 18-year-olds.
Bales, who is gay, told local media outlets he isn't sure if his sexuality played a role in his speech getting banned from graduation. The Diocese of Covington said they pulled Bales' speech because it had "elements that were political and inconsistent with the teaching of the Catholic Church." Apparently, the Catholic Church is against people making the world a better place in the face of adversity, which is what Bales' speech touched on. Since he wasn't allowed to speak at his ceremony, the 18-year-old grabbed a megaphone and gave it just outside of the ceremony at Connor Convocation Center at Thomas More College. His speech referenced the mass shooting at Marjory Stoneman Douglass High School in Florida and Bales' desire to make a difference in the world. "I didn't think it was very polarizing. It was, like, about empowerment through youth," he explained.
School officials only decided to ban Bales' speech 10 hours before graduation. But still, students, families, and friends came outside to hear the teen. "I honestly just can't fathom words because it's just so heartbreaking because this kid has worked four long years," North College Hill High School junior Kaycie Gardner told NBC news station WLWT. His mom, Gillian Marksberry, shared her thoughts about the school denying Bales the opportunity he earned. "Well, obviously, it's gut-wrenching, you know, just immediate sadness because, as a parent, when your child feels pain, you feel it as your own," she shared. Marksberry was happy he decided to speak outside following the ceremony. "I felt my heart swell because Christian is an amazing human being," she said.
In his speech, Bales said: "'The young people will win' is a mantra that I'm sure many of you have heard if you've been attentive to the media recently. It's a phrase adopted by the prolific Stoneman Douglas teenagers who are advocating for an agenda – our rights to feel secure as humans. We frequently see these individuals behind a computer screen, and therefore we see them as a separate body from us. However, they possess the same capabilities as us graduates. As we enter into the real world, we must remember that we have a voice. Throughout the past four years at Holy Cross, I've learned how to utilize my voice to advocate for my beliefs as an ethical individual. I've faced opposition in a number of scenarios, but my voice continued to grow in intensity as I faced more adversity. Rather than allowing opposition to silence us, we must utilize it as empowerment. As long as we nurture our minds as youth, we'll be able to be equally impactful as we encounter the world."
Watch the full speech below.
This article was originally published on