Bad-Ass Model Wears Breast Pump While Walking The Runway
by Valerie Williams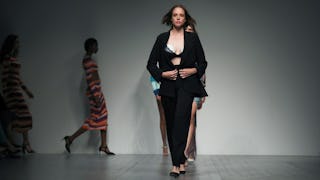 Image via Isabel Infantes/PA Images via Getty Images
Model mom casually wears breast pump on the catwalk
Fashion and mom history was made at a Marta Jakubowski fashion show in London last week when model Valeria Garcia wore a breast pump while strutting the runway. Because this is apparently the year moms make high fashion runways their home.
Following the amazing news that model Slick Woods walked Rihanna's Savage X Fenty runway while literally in labor, Garcia casually strolled the catwalk with the pump's cups partly visible. Oh, did I mention she looks smokin' hot doing it?
Garcia, who gave birth to her second child in June, was actually wearing an Elvie, a "silent" pump that currently has a waiting list. The device is fully wearable, as Garcia gamely demonstrates, and has no tubes. According to the Elvie website, it syncs to your phone and can be controlled remotely. It also measures the amount of milk your breasts produce, tracking the history of how much you pump. Simply hitting a button on your phone makes it stop extracting milk and once it's full, you just detach the device and funnel the milk into a bottle.
By wearing it on the runway, Garcia proves just how discreet it is — and that moms can look absolutely stunning, even while pumping.
So let's break it down — we have a pumping mom sashaying down the runway, a pregnant mom who was literally in labor while modeling freaking lingerie, and let's not forget Sports Illustrated swimsuit model Mara Martin nursing her sweet baby while walking in a bikini. Women. Are. Amazing.
Snaps to Garcia for bringing the pumping convo into the limelight — and helping continue the trend of moms absolutely owning the runway in 2018.