Valerie Bertinelli Claps Back At Troll Who Commented On Her Weight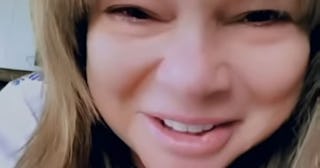 photo: Valerie Bertinelli/Instagram
The actor posted a relatable response to a person who brought negativity to her comment section
Ok, we all know the rules: bringing up a person's weight is not a good idea unless you're that person's healthcare provider. And yet, that doesn't stop internet trolls from feeling free to comment on the social media of folks both famous and not about their size, and Valerie Bertinelli, for one, isn't here for it.
The One Day At A Time actor responded publicly to a follower who commented on her weight on Instagram.
"If I could lose the weight and keep it off I would, but since I haven't been successful with that my whole entire life, at 61, I'm still dealing with it."
"Where's the compassion?" she added. "Not f—ing helpful."
Alongside the video, she posted: "aren't we tired of body shaming women yet?! smh. I was going to delete my stories because it's a little embarrassing and scary to be so vulnerable. But then I realized it was hitting it a 'good' nerve with so many of you who were so sweet to dm and share your same vulnerability and struggles. We all could use a little more kindness and patience and grace, because we just never know what someone else is going through. So here it is. Not deleting. Owning it."
Bertinelli's son Wolfgang commented on his mama's post, writing, "you're perfect the way you are, Ma. I love you. (also for no particular reason, what was that fuckers @ so I can harass them with memes?)"
Singer Michelle Branch posted in support, writing, "You're so beautiful and such an inspiration. I've been on the receiving end of comments like these so many times. Hell, half my life! It fucking hurts. Thank you for being vulnerable and authentic and always leading with such heart."
The Pioneer Woman, Ree Drummond wrote, "This video is everything. Beautiful Valerie, you inspire, you encourage, and you make people feel like everything is good and right. You have done this your whole life. You win."
RuPaul's Drag Race star Pandora Boxx commented on the Hot In Cleveland star's Facebook post on the matter.
"I'm glad you kept this up. It's raw and emotional and it will help a lot of people. I've learned that all some people have in their lives are the comment section. Pay them no mind," Boxx wrote. "They aren't happy people. They just want to bring other people down to where they are. You are a wonderful beacon of light. Keep shining!"
One Twitter user wasn't having it.
"I hope everyone BESIDES the person that made valerie bertinelli cry has a great day!!" they wrote.
Another posted in appreciation of Bertinelli's openness. "That video from Valerie Bertinelli is freaking amazing. Brava her," the post reads. "Also, every time you fat-shame someone, it blows back onto people who aren't celebrities, sends teens into cycles of binge eating and purging, and feels like a big slap in the face to folks already struggling."