Let's Make The 'Senior Walk' A Tradition Everywhere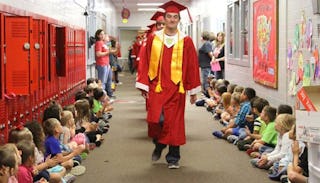 This school started a "Senior Walk" and it's the sweetest idea
Graduation season is upon us. Pretty soon, millions of high school seniors will don a cap and gown, collect their diploma and head off to their futures, whatever they may hold. It's an exciting time for these teens and their parents, but it's also a time for reflecting on how far they've come.
A Texas high school started a very sweet tradition that provides that reflection for the departing seniors, while also inspiring the little ones who still have a ways to go in their school careers. It's called the "Senior Walk" and be warned: the photos might make you teary.
Van ISD posted photos to their Facebook page of this new graduation tradition that every school should do. According to their post, the Senior Walk allows the graduating seniors to walk the halls of the Elementary, Intermediate and Middle School campuses with the students at all of the schools lining the hallways to cheer them on.
Is anyone else's heart exploding seeing those little faces looking up at the Big Kids? I know my children think teenagers are basically celebrities. They would lose it if their school did this. Indeed, the Facebook post says, "Our younger students cheered them on, gave them high fives, and shared in the excitement of their graduation." How absolutely adorable.
When asked their thoughts on the walk, senior Ashley Mosley said, "I never knew how much of an influence we had on the younger kids, but seeing their faces light up as we walked through their halls and high fived them, it really put it in perspective for me. It's something I'll never forget." Classmate Elizabeth Horton felt the same way saying, "Walking through the halls of the schools and waving to all the little ones brought me so much joy. It is an incredible thing to know that so many young people look up to us seniors."
The looks on the seniors' faces when they see the little ones hollering for them and going for high fives says it all. It must be a huge deal for them to realize where they started — and where they're headed. It's also probably dawning on them that they aren't really kids anymore. And that these younger ones are inspired seeing what's in store when they one day graduate.
Senior Sabrina Swinford says, "It was a nice reminder of where we've come from. At least for me, being a thirteen year student, it was nice to retrace my steps today." That quote probably strikes a chord for anyone who stayed in the same small school district from kindergarten through graduation. There's something undeniably special about being in the same place all those years. And being able to revisit where you began when things are about to end can only be described as bittersweet.
I was fortunate enough to have stayed in the same school from start to finish, and graduation was incredibly emotional for me and my peers. If they'd had us retrace the halls of our elementary school in our graduation gowns, it would've simultaneously crushed my heart and made it swell with pride. Physically stepping in the halls where it all started when these kids are on the cusp of adulthood, having finished the first big milestone in their education, must have been so moving.
Hopefully, these images being shared will mean that this fantastic idea is implemented in schools all over the country. It costs little to nothing and is probably one of the most memorable things to happen this school year for the younger children and the seniors. One group of kids sees what lies ahead, while another reminisces about what was. A beautiful way to end the school year for everyone involved.
This article was originally published on