People Keep Vandalizing Pride Crosswalks, and This Is Why We Can't Have Nice Things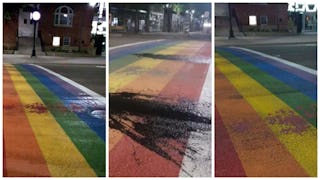 Crosswalks painted for Pride Month were vandalized
Pride crosswalks in Lethbridge, Canada was vandalized multiple times last week. The crosswalks were painted with the Pride and Transgender flags earlier this month, but last week – in the days leading up to the town's annual Pride Fest — the crosswalks were defaced with skid marks, tar, and manure. This is why we can't have nice things, people.
According to a press release on the Pride Fest's Facebook page, the crosswalks were first vandalized on June 12 with "blatantly deliberate" skid marks that were nearly identical to a similar vandalism incident in Saskatoon earlier this month. The group said that it considered the vandalism to be a "direct attack on the LGBTQ+ community and specifically the Transgender community."
Then two days later, the crosswalks were again vandalized – this time with tar and manure. City workers quickly responded to remove the mess.
June is national Pride month, and several cities – including Houston and Atlanta – have painted crosswalks with Pride flags to celebrate diversity, love, and acceptance. Lethbridge, which is in Alberta, Canada made history as the first city in the world to paint a Transgender Flag on a city crosswalk.
"Thank you for helping us express our message of celebration, inclusion, and love. We will have our biggest parade and coming together we have ever had," Levi Cox, last year's chair of the Lethbridge Pride Fest, wrote on Facebook.
Despite the hateful vandalism, the community remains hopeful and positive. "We at Lethbridge Pride Fest know this is the action of a few small minded, intolerant people. We know that this incident does not define Lethbridge. We know that Lethbridge as whole is inclusive, welcoming and supportive."
Devon Hargreaves, Chair of the Lethbridge Pride Fest, told Scary Mommy that these actions do not represent the feelings of the community as a whole, and Pride Fest has received an outpouring of support from the mayor, the community in general, and the business community as well. In fact, several local businesses pledged a portion of their proceeds during Pride Week to the Lethbridge LGBTQ+ community. Hargreaves also said the Lethbridge Police Department has been an excellent partner in Pride Fest and Pride events in general, supporting the activities and quickly moving to investigate the incidents as a hate crime.
"Incidents like these show why Pride events are necessary," he added.
The Lethbridge Pride Fest began on June 16 and continues through June 24 when it culminates with its Pride Parade.
"This will not bring us down. This will only propel us to work harder, be louder, and be prouder in our community."
In other words, love conquers hate.
h/t Buzzfeed
This article was originally published on