'Vanderpump Rules': James Kennedy Breaks Down While Talking About His First AA Meeting
by Kristine Cannon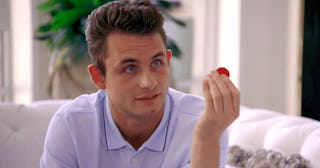 Bravo
Before we begin, a moment of silence for Daug Schwartz (2019-2019).
*Lifts head* Thank you.
Tonight was an emotional one for not only James Kennedy (which we'll get to a little later), but also Tom Schwartz and Katie Maloney-Schwartz, who hosted a bizarre pool party memorial for their late lizard-child, Daug.
"You could say it was just a lizard, but I really did bond with him, and I loved him a lot, and I'm bummed out about it," Schwartz said through tears.
But what really has some viewers' eyes welling up? Lisa Vanderpump's meeting with James Kennedy, who, chip in hand, revealed to her at her home, Villa Rosa, that he attended his first AA meeting.
"I cannot even explain how this makes me feel, the fact that maybe there is hope for him," Lisa said.
Tears streaming down his face, James explains to Lisa what he saw and heard during his AA meeting and how he doesn't want his life to turn out that way.
"They gave me this," James said, holding up his chip. "I had to stand up and say, 'I'm an alcoholic,' so, that's a big thing for me. I never did that."
Leading up to James' AA admission, though, Lisa confronted him about his terrible treatment of girlfriend Raquel Leviss, including the abusive rage texts he sent her.
"For some reason I feel like I have a modicum of responsibility for your welfare, and I don't know why, since you're not my child, but I do and I saw all those texts to your girlfriend," Lisa said, to which James responded, "Those are words that come out of my mouth when I'm angry."
"It doesn't matter," Lisa said. "To use those words to that girl that has stood by your side. If you love somebody you don't treat them like that, James."
"I don't treat her like that when I'm sober," James said, to which Lisa responded, "Doesn't that tell you everything? You have to get help."
"I want to help you," Lisa continued. "It's attainable. You can do it."
Even Lala shed a few (likely fake) tears when Raquel told her that she drove James to his AA meeting.
"My first AA meeting, I felt broken, embarrassed, overwhelmed, but I felt like, for the first time in a long time, I felt light at the end of the tunnel," Lala said during a talking head.
Are we really to believe Lala felt anything for James in that moment? Especially after watching her at Tom Sandoval's "extra" birthday party dredged up a rumor from the past that James and his former friend Logan Noh hooked up? Nope. And that's all we'll say about Lala.
In a Vanderpump Rules after-show clip, James admitted to producers that he was shocked at Lisa's reaction to his AA chip.
"I feel like this is going to be hard evidence that I can show Lisa, that I'm really trying to work on myself — and she made a big deal about it, bigger than I thought it'd be," James said. "Showing Lisa, I knew she'd care about it, but she really cared about it, and that really helps. It boosted my heart with energy and gave an even greater sense of purpose to complete that day without drinking again."
Earlier this month, James revealed to Watch What Happens Live host Andy Cohen that he was nine months sober.
"I just feel completely different than what we watched here," he told Andy. "I've really taken hold of my life and really changing our relationship for the better."
He isn't alone in his journey to sobriety, either. His mom, Jacqueline Georgiou, also made the life change to get sober.
"My mom's really good," James said recently on The Daily Dish podcast. "She's still sober. So she has now over a year under the belt, and our relationship is at a high, you know? She texts me every day, we talk every day, we live 10 minutes away from each other, so I like to see her. I treat her for lunch a couple times a week. So, we stay close and our relationship has gone leaps and bounds since I stopped drinking as well, because now that we're both sober, we're both counting the blessings together every day and it's just such a beautiful thing, you know?"
Keep it up, James.
Vanderpump Rules airs Tuesdays at 9/8c on Bravo.