'Vanderpump Rules': Jax Taylor Acted Insufferable At His Own Wedding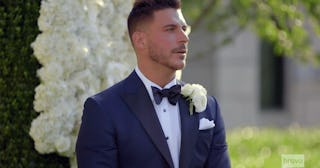 Bravo
Hooters girls, Lance Bass, and 60 bottles of vodka: Jax and Brittany's wedding finally aired on 'Vanderpump Rules' — and it was something else
Fellow Vanderpump Rules viewers, rejoice! We've finally arrived: It's the day of Jax and Brittany's wedding in Ver-Sales, Kentucky, and this wedding truly had it all.
We not only got a glimpse of Lisa Vanderpump's impressions of Jax and Brittany…
(Not as good as James "The White Kanye" Kennedy, but we'll still take it.)
…and Randall "taking a nap" with Beau…
But we also saw a whole lot more of officiator and *NSYNC-er Lance Bass (and his brief at-the-altar dance)…
…as well as a random and weirdly highlighted appearance of Larry Birkhead, former partner of the late Playboy model Anna Nicole Smith and, apparently, friends of Jax and Brittany…
…and, as Danny Pellegrino pointed out, an ASMR moment at the far end of the bridesmaids line.
The wedding had its fair share of highs, prompting even Jax "I'm not the crier; Sandoval is the crier" Taylor to shed a few tears.
Jax and Brittany's vows were even mildly entertaining as we were reminded, once again, that they both really love Friends and that they're both Hooters fans (especially Jax).
"Jason, I have been absolutely crazy about you since the first day that we met," Brittany started her vows. "You're my best friend, my love, and my whole world. Even though we can be very different at times, we balance each other out, and you make me feel whole. We love so many of the same things, like Kingsley and Monroe [their dogs], Hooters, and, of course, Friends. I can't wait to see you as my husband, and I already know you will be the most incredible father. You have made me the happiest girl in the world, and I love you so much, honey. You're my lobster."
As for Jax, he said during his vows that Brittany made him the "happiest, luckiest man alive," and that it's not because she loves Friends as much he does.
"You walked into my life four years ago with that big, beautiful smile and Southern accent, then you introduced yourself, and told me you bartended at Hooters. My jaw dropped, and I said, 'I have to marry this girl.' I've never in my life met a more positive, caring, giving woman who literally smiles all day long and just wants everyone to be happy. How could you not want to be with this woman? I love you so much, and I'm so excited to be your husband," Jax said.
But the wedding also had its fair shares of odd, awkward moments, including a particularly side-eye-worthy moment when Jax revealed he was upset that his mother — someone he did not invite to the wedding — didn't call him or text him.
"I can't believe my mom didn't even text my godmother, nothing," Jax told Lisa. "That hurts my feelings."
And, as viewers pointed out, we also rarely heard Jax talk about how lucky he is to marry Brittany. Instead, Jax talked about how proud his late father would be of him.
Lastly, we can't forget Jax's rage blackout later that night, flipping out that the bartenders charged their wedding guests for drinks when they should have used the 60 bottles of vodka he paid for. Jax even went as far as make a degrading comment about how the bartenders "make $10 an hour" when — earth to Jax! — he was one himself.
"$100,000 wedding and I f***ing have this?" Jax said. "I have 60 bottles of vodka, and they're charging people. I spent $100,000 on this wedding. I want my f***ing vodka there. They're charging people at my bar for drinks!"
Just in case you missed it, Jax spent $100,000 on the wedding. Got it? OK, good.
Tom Sandoval, the downgraded best man, then went out of his way to help Jax on his wedding day, taking it upon himself to bring the boxes of vodka from one bar to another. And yet, Jax couldn't even admit that Tom saved the day.
Jax may now be a married man, but he isn't a changed man, despite what Lisa said earlier in the episode, claiming that "Jax is like a different person!" No, Jax is insufferable, even at his own wedding, and viewers refused to be convinced otherwise.
And now that Jax and Brittany's wedding is over and behind us, we can finally move on to, well, another wedding: Katie and Schwartz's second wedding. Let's just hope — and we can't believe we're about to say this — we see more of Randall and Beau's budding bromance. Now that's the reality TV we all deserve.
Vanderpump Rules airs Tuesdays at 9/8c on Bravo.