Raquel Leviss On Feeling 'Verbally Abused' By James Kennedy On 'Vanderpump Rules': 'It's Scary To Me'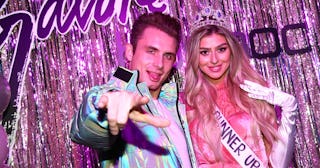 Tommaso Boddi/Getty Images
Raquel Leviss issued James Kennedy an ultimatum after he rage-texted her vile messages
Y'all, it's Stassi Schroeder and Ariana Madix's m*****f****** birthdays, and anything they say go. But unlike past seasons where we eagerly awaited a trademark alcohol-and-Adderall-fueled Vanderpump Showdown at a castmember's birthday/engagement party/etc., the drama starts well before the cast has even taken one pre-gaming tequila shot. Ladies and gents, welcome to Episode 9 of Vanderpump Rules Season 8, where — surprisingly — the drama doesn't revolve around Stassi's birthday; nor do we see Tequila Katie resurface. Nope, instead, James Kennedy is the rage-texter, sending vile texts to girlfriend Raquel Leviss. And viewers were not here for it.
During tonight's episode, Raquel confides to her fellow SURvers that after a long night of drinking, she received "a million texts" from James. And they're truly disgusting and unforgivable.
"I like drank way too much," Raquel recalled. "I blacked out, and Scheana [Shay] made sure I got home. I left my phone in my purse in the kitchen, passed out in bed, then woke up to a million texts from James, like, 'whore,' 'slut' — all that."
"You deserve better than that treatment," SURver Dayna Kathan told Raquel. "I don't care who you are; no one should be talking that way if they love you."
A producer then asks Raquel during a talking head if she could read some of the texts. "'Fuck you.' 'Where are you?' 'I'm breaking up with you.' 'Whore. 'Slut,'" Raquel reads aloud. "It makes me literally want to throw up."
Raquel, we have just two words for you: Leave. Him.
Fast-forward to Ariana's birthday party, where James and Raquel have a brief discussion about his inappropriate texts.
"Raquel doesn't answer, and I feel like she's doing things I used to do," James says in a pathetic attempt to justify his texts, to which we hear Raquel tell him, "You behave a different way than I do when you're drunk."
Look, James Kennedy can be entertaining, from his American accent and impressions to his commentary on Jax and Brittany's wedding hashtag, #JaxGotItWright. But, when it comes to how he treats women, full stop.
"Do you care if I see the text messages?" Ariana asks Raquel in the alley behind Sur. "I'm definitely not proud of any of them, but it goes on for a while," Raquel says to Ariana as she reluctantly hands her her cell phone.
"It's only a matter of time before words like that become part of what you think and believe. I just don't want to see you sacrifice your own self-worth to try to help him if he's not helping himself," Ariana says after scrolling through the texts. "I was in a very verbally abuse relationship, and I did not do the things I should have done. What I should have done is leave."
We then watch Raquel admit during her talking head that, yes, she recognizes she's being verbally abused: "No girl goes into a relationship thinking they're going to be verbally abused. It's scary to me. I don't ever want to go through this again."
Later, Raquel tries to address James' texts again, but he evades and slings excuse after excuse yet again.
"I say a lot of things to people when I'm drunk. But, I'm never mean to you when I'm sober, am I?" he asks Raquel, to which she responds, "No, but you do give me a tone."
"I give you a tone? That's just my personality. I'm from England; I get a tone. That's just who I am. If you don't love me for who I am, then, buh-bye," James has the nerve to tell Raquel.
"You're embarrassed by your actions, and you should be," Raquel then tells James.
"Cut it out," James responds. "Cut it out, or I'm gonna leave you, I'm gonna leave right now. I really will."
"It's OK to express your emotions; I'm not telling you not to," Raquel says.
"You're just telling me, what? To stop drinking?" James asks, to which she says calmly, "Yes."
"I'm so over this conversation," James responds and storms out. He eventually returns and apologizes to her.
"The way you talk to me when you're drunk, it scares me," Raquel tells him. "And if we had kids together, I wouldn't want you to talk to them relatively close to that."
And then it happens, Raquel gives James an ultimatum: give up drinking or lose her — forever.
"The way I was talking to Raquel was completely unacceptable," James later told Watch What Happens Live host, Andy Cohen, immediately following the episode. "It was completely my fault, and I completely regret it." He then tells Andy that he is now nine months sober. "I just feel completely different than what we watched here. I've really taken hold of my life and really changing our relationship for the better."
Guess we'll have to see these changes for ourselves — and hopefully over the course of this season.