Vanessa Bryant Honors Gigi On Her Birthday By Encouraging Acts Of Kindness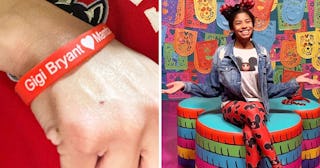 Vanessa Bryant/Instagram
Today would have been Gianna Bryant's 14th birthday
It's hard to believe it's been three months since the death of Kobe Bryant, his daughter, Gianna, and seven others who lost their lives when Bryant's helicopter crashed in Calabasas, California. Now, his wife, Vanessa, is honoring their daughter on what would have been her 14th birthday by reminding everyone to be kind to one another.
RELATED: Words of Encouragement To Get You Through A Difficult Time
"Gianna loved to wear a red bow in all of her school pictures. Red means love and life," Bryant wrote on Instagram. "To commemorate Gigi's birthday today, please consider wearing red, caption an act of kindness or show how you will play Gigi's way since she always gave everything she did her all and led with kindness."
https://www.instagram.com/p/B_pyc67jTIP/
She wrote another post wishing her daughter a happy birthday, saying, "Happy 14th Birthday to my sweet baby girl, Gianna. Mommy loves you more than I can ever show you. You are part of MY SOUL forever." Bryant also heartbreakingly listed the things she misses about her daughter, saying, "I miss you so much everyday. I wish I could wake up and have you here with me. I miss your smile, your hugs and your giggles. I miss EVERYTHING about YOU, Gigi. I LOVE YOU so much!!!!!!!"
https://www.instagram.com/p/B_psEN4jWPc/
Bryant has opened up in the past via social media about the pain and loss that comes with losing both her husband and daughter. "I've been reluctant to put my feelings into words. My brain refuses to accept that both Kobe and Gigi are gone," she wrote on Instagram shortly after their deaths. "I can't process both at the same time. It's like I'm trying to process Kobe being gone but my body refuses to accept my Gigi will never come back to me. It feels wrong. Why should I be able to wake up another day when my baby girl isn't being able to have that opportunity?! I'm so mad. She had so much life to live."
https://www.instagram.com/p/B8ZavYwDZ5y/?utm_source=ig_embed
https://www.instagram.com/p/B_HRI9ujY-0/
Bryant also let her followers know she was in the process of making the red bracelet shown in the picture available for purchase by the public and that proceeds would go to the Mamabcita foundation. The Mamba Sports Academy was started by her husband which was renamed to include "Mambacita" after their deaths.
"Please use the hashtag #PlayGigisWay Thank you. 5-1-06 Mambacita (We are in the process of making this bracelet available for proceeds to benefit our Mamba and Mambacita foundation. I will update you with a post when we have them available for purchase").
This article was originally published on