Vans Is Honoring David Bowie With A New Collection And You're Going To Want Everything
by Thea Glassman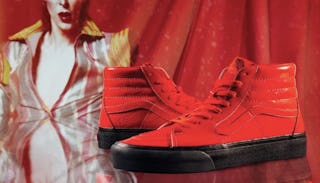 Image via Instagram/Vans
Vans has a new limited edition collection of ridiculously cool David Bowie shoes
Want to pay tribute to music, culture, and fashion icon David Bowie? Head over to Vans' website, where they're selling a new sneaker and apparel collection that's inspired by the music legend. Prepare for a whole lot of bright, vibrant, retro cool.
Vans released all the items on Friday and you're gonna want to run, not walk, because it's a limited edition collection. The store is selling shoes, hats, and t-shirts which are all inspired by the artist's career, including homages to "Space Oddity," "Hunky Dory," and "Blackstar."
*Bonus points* some of the shoes come in toddler sizes because you're never, ever too young to become a Bowie fan.
And yes, all of the collection is a little bit kooky – just like the legend himself. "Vans pays homage to David Bowie's iconic legacy with an Off The Wall collection that draws inspiration from some of his most influential works," the sneaker company wrote on its website. "Celebrating a joint force between Vans and the 'man who fell to earth' – two entities who have championed the different and the strange for decades."
Are you officially ready to put "Under Pressure" on immediately and go on a feverish shopping spree? Here's a quick preview of what you can buy. First off, you should definitely snag these bright, bright red and shiny Vans that come complete with custom Bowie details.
You're probably gonna need this "Stardust" t-shirt to go along with it. Side note: nobody will ever rock a bodysuit and red boots quite like Bowie.
Pay homage to "Blackstar" with these sleek black slip-on Vans. And, yes, you should probably (definitely) re-listen to the entire album while you're at it.
You can and should rock these "Space Oddity" inspired kicks. Hellooo polka dot chic.
Or keep it nice and simple with this Aladdin Sane t-shirt.
Truly the most magical part of this collection is the toddler shoes. Because the only time it's acceptable for parents and babies to match is when it involves David Bowie.
Unsurprisingly, all of these items are already flying off the shelves.
https://www.instagram.com/p/Bv9PV_RhJdp/
https://www.instagram.com/p/Bv9GEe8ns30/
Okay, now go listen to "Young Americans" on repeat and rock the hell out of this bright, flashy, wacky collection.