Vans Satin Sneakers Are Here To Help You Up Your Mom Fashion Game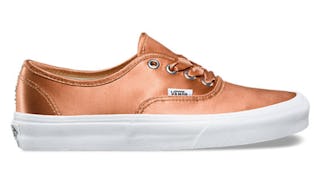 Image via Vans
Van's new Satin Lux sneaker line is almost too cute to wear
Vans, makers of the slip ons you've been wearing for decades that magically never go out of style, just released a line of sneakers so pretty you might mistake them for works of art instead of functional footwear. The collection is called Satin Lux, and our closets will never be the same.
The new line features two different styles, Old Skool and Authentic, and are perfect for when you want to rock some seriously cute shoes, but you don't feel like playing toe Tetris to get on a pair of heels.
Check out the Old Skool in gray ($70). They're Old Skool for a reason — they will never go out of style.
No more trying to find a pair of shoes that doesn't clash with your outfit. This dark gray goes with everything. Who knew leggings and a hoodie could be a lewk?
The gorgeous rose gold Authentic ($65) is for all of us who want to keep up with what the cool kids are wearing, but also need to be able to chase a rogue toddler through a parking lot, should the need arise.
The only problem with these light silver Authentic ($65) sneakers is I might never actually wear them. One afternoon with my kids and they'd probably end up getting yogurt-bombed. But they'll stay pristine if I leave them in the box, where I can cradle them and call them my Precious.
BRB, clearing a place of honor for these in my closet.
Is buying four pairs of new sneakers at once too much? It's good to have backups to your backups right? Because these blush Old Skools ($70) are too pretty to leave behind.
Did I mention they have satin ribbons for laces? Drool.
If you're not reaching for your credit card already, perhaps these twee blush Leenas ($40) for your kiddo will make you understand the awesomeness that is satin sneakers.
That's right — coordinating kicks for you and your little. Heaven is a place on earth.
So long, New Year's resolution to spend less. Hello closet full of beautiful, shiny sneakers.
This article was originally published on