You're Going To Want Everything In This Vans x Disney Collection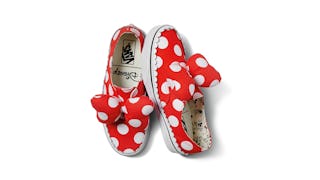 Image via Vans
This new collection from Vans x Disney is what dreams are made of
Did you think maybe you would have a little extra cash this month? LOL sorry, not happening. Because here comes a new collection from Vans x Disney that will take your every last available dollar.
The Minnie Vans alone have us squealing.
The new line of shoes, apparel, and accessories is being rolled out in honor of Mickey's 90th anniversary. The brands called on the talents of four different artists — John Van Hamersveld, Mister Cartoon, Geoff McFetridge and Taka Hayashi — to put their own unique spin on the classic characters.
Unique, and absolutely freaking adorable.
The collection is available in women's, men's, and kid's sizes — so if your family isn't so into the Disney-bounding trend, this could be your low-key ticket to wearing some themed apparel during your visit to the park.
The designs are all centered around old Mickey films and pay homage to classics such as The Sorcerer's Apprentice.
The Minnie Vans, like I said, are pretty much to die for.
The best part? You can make them an entire outfit.
This sweatshirt — I need it yesterday.
Your kid is going to lose their mind over this backpack, but too bad, so sad, it's for Mommy.
There's apparel for every design including this amazing hoodie.
And this one.
In case it's not exactly fall yet where you live, the line also offers some very hip t-shirts.
The entire line is really just painfully hip, TBH.
Grab your kids and start figuring out who needs what, because the whole line drops on October 5th, and I have the feeling some of this adorableness will sell out quicker than your toddler melts down at the Magic Kingdom.