Venus Williams Drops The Mic When Asked How She Deals With Press
by Erica Gerald Mason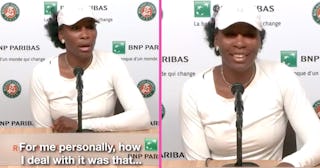 Tosyneno/Twitter
Tennis great Venus Williams spoke about how she deals with interviewers
When Naomi Osaka made headlines earlier this week for dropping out of the French Open, other athletes came forward in support of the young star. As the famed tennis club pouted about Osaka's earlier statement that she would be skipping post-match interviews for mental health reasons, Venus Williams took the opportunity to share her take on the press.
Osaka's statement should have been enough for some to look at how our information culture treats athletes and how much we expect from them. (The answers: not well and a lot). While some organizations vowed to rethink their strategies, other organizations (as of this reporting) have doubled down on their vow to force athletes to do press.
So it should come as no surprise that Venus Williams, a legend herself (and no stranger to press scrutiny), should weigh in on how she deals with the press.
While careful to say that everyone deals with the press differently, Williams shared her approach with reporters.
"For me personally, how I quote 'how I deal with it' was that I know every single person asking me a question can't play as well as I can and never will," Williams said. "So no matter what you say or what you write, you'll never light a candle to me. So that's how I deal with it. But each person deals with it differently."
DAMN.
Twitter, of course, bowed down to the queen. "Venus Williams said your insults can't reach me because you're not at my level," one tweet read.
"Venus Williams talking about media scrutiny is the energy I need to start bringing into every facet of my life," read another tweet.
For anyone asking if this confidence is new, the answer is no. Back in 1995, Richard Williams educated an interviewer for doubting his then 14-year-old daughter's confidence.
After young Venus answered that she was, indeed, confident about her upcoming match, the interviewer asked her why. That's when Dad stepped in.
"What she said, she said it with so much confidence the first time, but you keep going on and on," Williams told the reporter.
"You've got to understand that you're dealing with the image of a 14-year-old child. And this child is gonna be out there playing when your old ass and me are gonna be in the grave.
"When she say something, we done tell you what's happening. You're dealing with a little black kid and you let her be a kid. She done answered it with a lot of confidence. Leave that alone."
In the clip, the interviewer didn't seem to get it — which is why Osaka is struggling today:
No one ever asked Michael Phelps why he was confident he'd win all those gold medals. Or to use filmmaking as an example; remember when Leonardo DiCaprio won his first Academy Award? Remember all that hoopla? About how it was his time? How he had done all the work and 'deserved' it?
Can you imagine, if for only for a moment, how beautiful it would be if we took all that energy about why a white middle-aged man who only dates women under the age of 25 'deserves' to be valued by his peers… and used that same energy to talk about why women of color need to seen as worthy?
I imagine Naomi Osaka would like to know the answer to that question, as well.