Verizon Is Offering Customers A Year Of Disney+ For Free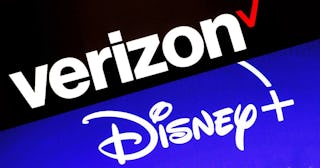 Scary Mommy and JOSEP LAGO/ROBYN BECK/Getty
Verizon is offering new and existing customers a year of Disney+ for free
Because we needed another nudge to sign up for a Disney+ subscription (hint: we did not) Verizon just announced they're offering a full year of the upcoming streaming service for free to new and existing customers. There's a couple of catches, but it's a great deal if you happen to qualify.
The company says, "Starting November 12, get your first year of Disney+ on us with Unlimited or when you switch to Fios Home Internet or 5G Home Internet." After that, it will be $6.99 a month which, let's face it, is still an insanely great deal considering everything it includes.
And what does it include you might ask? Oh just a few things. There's Disney animated classics and Disney vault films (Peter Pan, Sleeping Beauty, Alice in Wonderland, etc), classic Disney live-action hits (Mary Poppins, The Parent Trap, Sister Act, etc), Disney Channel Original Movies (Halloweentown, Hannah Montana: The Movie, Descendants, etc), Disney TV shows (That's So Raven, Andi Mack, Bizaardvark, etc), and Pixar films (Finding Nemo, Toy Story, Inside Out, etc), plus all the Star Wars films, most Marvel films, and a bunch of National Geographic content.
If you have a bunch of time on your hands and are super hyped for the upcoming start date for the service, check out this hours-long video that details all the planned programming. It's a whole lot of Disney for your money.
But back to the catches — to take advantage of the free subscription offer, you'll need a new Fios Home Internet or 5G Home Internet plan, or an Unlimited plan. Of course, not every region in the United States is hooked up for Fios, but if you are, this freebie subscription is a pretty great reason to jump on with Verizon.
In a statement to TechCrunch, Verizon Chairman and CEO Hans Vestberg says, "Giving Verizon customers an unprecedented offer and access to Disney+ on the platform of their choice is yet another example of our commitment to provide the best premium content available through key partnerships on behalf of our customers."
If you don't want to sign up with Verizon, you can just order up the service from Disney at $6.99/month or $69.99 for an entire year (a savings of just over $1/month). You can also bundle Disney+ with Hulu and ESPN+ subscriptions for $12.99/month. These crazy-low prices are proof that when streaming services compete for our money and affections, we come the winners.
This article was originally published on