Georgia State Rep. Actually Crowdsurfed Over Maskless Trump Supporters At Crowded Rally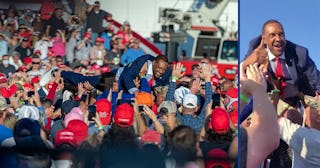 Alyssa Pointer/AJC, @RoxBomBox/Twitter
And Vernon Jones doesn't regret it one bit
George state rep Vernon Jones has a new nickname following his ill-advised idiotic crowdsurf at Friday night's Georgia Trump rally: "Captain COVID."
At President Trump's crowded campaign rally at the Middle Georgia Regional Airport in Macon, GA, Trump-supporting Democrat Jones not only thought it was a great idea to forgo wearing a mask to a rally attended by hundreds of largely unmasked people blatantly ignoring social distancing guidelines by the Centers for Diseases Control and Prevention (CDC), but he also went so far as to crowdsurf onto said attendees after his pep talk — as if we weren't, oh, I don't know, in the middle of a pandemic that's infected more than 8 million Americans and killed more than 218,000. To boot, this irresponsible act follows Trump's own infection and three-day hospitalization.
And the kicker? Jones doesn't regret it one bit.
"Yes, I surfed that crowd!" Jones tweeted last night. "To the haters – stay mad! You'll be even more mad come November 3rd!"
Of course, Jones' stint was met with swift backlash.
https://twitter.com/jetpack/status/1317496920512843778
Jones was also a featured speaker at the 2020 Republican National Convention, during which he spoke about being a Black Trump supporter.
"When I made the public announcement of my support for President Trump, all hell broke loose," he said. "I was threatened, called an embarrassment, and asked to resign by my own party. Unfortunately, that's consistent with the Democratic party and how they view independent thinking black men and women. But, I'm here to tell you that black voices are becoming more woke and louder than ever."
As of today, the U.S. reached a grim COVID-19 milestone: more than 8 million confirmed cases, according to Johns Hopkins University. And according to The New York Times' COVID-19 database, there were 70,451 new cases of coronavirus on Friday, marking the highest daily case count since July.
It's likely to get worse, too: Dr. Anthony Fauci, director of the National Institute of Allergy and Infectious Diseases, even warns of high infection rates as we head into winter. "You can't enter into the cool months of the fall and the cold months of the winter with a high community infection baseline," Fauci said during a John Hopkins virtual event on Friday.
Earlier in the week, Fauci also warned against household gatherings this upcoming holiday season, stating that it's a risk and could lead to spread.
"Given the fluid and dynamic nature of what's going on right now in the spread and the uptick of infections, I think people should be very careful and prudent about social gatherings, particularly when members of the family might be at a risk because of their age or their underlying condition," he told host CBS Evening News on Wednesday. "You may have to bite the bullet and sacrifice that social gathering, unless you're pretty certain that the people that you're dealing with are not infected."
Information about COVID-19 is rapidly changing, and Scary Mommy is committed to providing the most recent data in our coverage. With news being updated so frequently, some of the information in this story may have changed after publication. For this reason, we are encouraging readers to use online resources from local public health departments, the Centers for Disease Control, and the World Health Organization to remain as informed as possible.