'Veronica Mars' Is Getting A Reboot And Fans Are Freaking Out
by Julie Scagell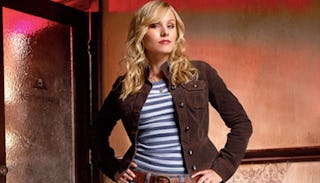 Image via Veronica Mars/UPN
Marshmallows unite: They're calling it a comeback
If you're one of the millions who've watched (and rewatched) Hulu's Veronica Mars, your day is about to get a whole lot better. "Did you guys know that as of summer 2019, all the old Veronica Mars episodes will be on Hulu to stream and rewatch?" star Kristen Bell announced on Instagram. "Which is great, because you'll need to brush up — since we're making another one!"
Bell captioned the video with a whole lotta exclamation marks, so it seems she's almost as giddy as her fans. Almost. "Attention all Marshmallows: BREAKING NEWS!!!!! We are OFFICIALLY back in business!!! A new #veronicamars series is coming back, on @hulu !!!!" Bell wrote. "Veronica has always been a super hero without a Cape. And I think shes exactly what the world needs right now. Thank you to all my fellow marshmallows who stayed excited."
And her fans are very, very excited:
https://twitter.com/jetpack/status/1042823268674228225
The series was never a big ratings grabber but it developed a cult-like following after its cancellation, prompting original creator Rob Thomas and Bell to launch a Kickstarter campaign to fund a feature film of the series (the campaign raised almost $6 million dollars!), which fans can also catch on Hulu in 2019.
For those who need a quick summary of the show, Bell plays main character, Veronica Mars, originally following her throughout high school and then onto college. She works on the side as a private investigator with her detective father, solving different mysteries and murders along the way.
Hulu's given a direct-to-series eight-episode reboot (originally on UPN and then again on CN) which will feature Bell again as the title character (yesssss), and is slated to premiere in 2019, along with original seasons one through three. According to Deadline, this series will focus on one storyline — spring breakers getting murdered in Neptune — thwarting the town's booming tourist industry. Sort of like Jaws, but with a killer-killer instead of a killer shark.
Of course in our eyes, Bell can do no wrong. How can you not get behind a woman who hilariously shares her mom fails, stands by her husband's side through thick and thin, and is so generous with her time and money. She's a force to be reckoned with both on and offscreen, but we'll always take more on her onscreen when we can get her.
And cheers to all her loyal followers for never letting this series go — sometimes the louder voices really do get heard.