We Are A Very Real Family, Thank You Very Much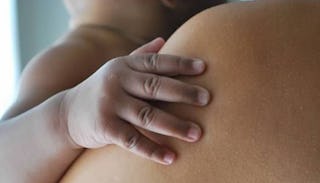 Image via La Jolie Vie Photography
My family is no stranger to questions, stares, and assuming statements. Since my husband and I became parents five-and-a-half-years ago, we've pretty much heard it all.
"Are they all yours?"
"I cannot imagine giving my baby away."
"Are you the nanny?"
"Isn't adoption really expensive?"
"What country are they from?"
"Why didn't you adopt white kids?"
"Aren't a lot of adopted kids, you know, pretty messed up?"
"Doesn't open adoption confuse your children?"
"OH! What a wonderful thing you did adopting children who needed good homes."
"Are they foster kids?"
"Aren't you afraid their birth parents will try to take them back?"
We've had plenty of practice responding to the slew of statements and questions we encounter. There is rarely a day that goes by when we aren't approached to answer a question about adoption.
Some believe we've signed up for being adoption educators. After all, we chose this path to parenthood, and our status as an adoptive family is apparent. We are white, and all three of our kids are black. We have become more outgoing, patient, and strong, with each passing year. The questions that are asked of us are our normal. We know how to respond with education, grace, and honesty, all while protecting our children's privacy.
But there is one question that never fails to get under my skin, causing my chest to tighten, and my face to flush.
"Are they real siblings?"
Imagine you are in a store with your family, and the person in front of you in the checkout line turns to observe the restless children (with their incessant touching/bouncing/bumping/giggling/shrieking). After a quick glance over the children, and the sweaty mother trying to contain them while simultaneously grabbing all the candy bars her toddler has nabbed, the person asks, "Are they real siblings?"
It's not what you would expect. Nor is it what you want to hear, with your cart heaped with haphazardly stacked groceries and diapers and feminine products and clearance clothing. With your energetic little ones. With your coupon binder spilling open and your wallet missing, only to discover, oh yes, the baby is playing with it, sprinkling your credit cards and coins around like birthday confetti.
Why do you not expect it? Because you are just a normal parent, trying to insure your kids remain safe and happy and healthy. Because you are at the store trying to pick up food and clothing and personal hygiene products—like normal people do.
And because, above all, your children are standing right there, and they have a right to respect and to
just be kids. They aren't adoption's poster children for you to interrogate.
Think for a moment about the people you love. Really love. Your best friend. Your partner or spouse. Your parents. Your sister's step-son. Your godchildren. Your grandmotherly neighbor who is always looking out for you. Your favorite childhood teacher or coach. These are the people who have invested in your life, who have been with you in good times and in bad, who know your idiosyncrasies and love you like crazy anyway.
Many of these individuals aren't your biological relatives. But your love for them runs deep and true.
There are countless times I've been asked the "real" question. It comes in many forms. I understand the person is substituting the word "real" for "biological," and as an adult, I know what you mean. But please think about the innocent, beautiful little humans standing beside me. The word "real" is confusing, intrusive, and hurtful.
My kids act like any other children who are in the same family. They pull each other's hair, give one another hugs, steal toys from the hands of the other, share an evening bath, join hands and play endless games of Ring Around the Rosie. They argue, they reconcile, and then argue again. They play, dance all kinds of silly when their favorite song comes on, and they nurture one another.
My kids are real people. With thoughts and feelings. Newsflash: They can hear you when you pepper us, the parents, with questions about our family's authenticity.
Our love is real.
Our family is real.
It's all real.
The next time you see a family at the store, at the park, in a restaurant, at the library, standing next to you on the subway, and the family looks like they may not be biologically related or they may have joined together through the process of adoption, it's perfectly fine to smile. But please keep the word "real" to yourself.
Or as my mama taught me, just because you think it, doesn't mean you have to say it aloud.
Related post: A Child of My Own
This article was originally published on