HS Football Team Makes One Player's Dream A Reality, And The Entire Internet Is Crying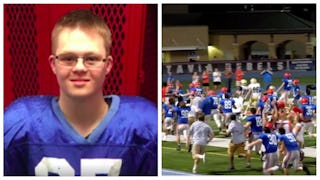 Image via Facebook
High School football player with Down syndrome scores touchdown and crowd erupts
Jake Pratt, a senior at Vestavia Hills in Alabama, is the manager of his school's football team. He's also a hard worker who's attended every summer workout and weight-lifting session. On Friday, something magical happened. He didn't sit on the sidelines cheering for his team, instead the crowd cheered for him.
Pratt, who also happens to have Down syndrome, dressed for a game for the first time and scored a touchdown on his first play. He took the handoff in the final play of the pre-season game and ran straight for the end zone. The whole stadium went wild. The triumphant moment was recorded and shared on WBRC's Facebook page.
Players from both teams mobbed the field to celebrate Pratt's touchdown. His moment in the sun was one the whole community had come together to pre-arrange, but no one could've arranged for the emotional reaction.
"It was one of the most moving things that I've ever seen," Vestavia Hills coach Buddy Anderson tells AL.com.
The 18-year-old was so pumped up after scoring, he even gave the whole crowd a dance and a Cam Newton-style dab.
"He was so happy," said Kathy Pratt, Jake's mom, relayed to AL.com. "Jake will remember this all of his life. It will be a life-changing experience."
His sister took to Facebook to thank everyone who made this epic experience possible for her brother and family. "I am currently sitting here crying the happiest tears possible," she writes.
"Two teams came together to make one of my brother's biggest dreams come true. I can't even put into words how much this meant to Jake and how full my heart is right now. God bless all of the people who made this possible!"
The support Pratt has from his own teammates is also unmatched and incredibly heartwarming. These young people really respect him and each other.
"Jake's touchdown run was so amazing for the whole team," teammate Coleman Petway told AL.com. "We all love Jake and are so happy for him that he got to score in a high school game. We sometimes take for granted the opportunities we get to play on Friday nights and to get to see Jake play alongside us was really special."
It wasn't about winning or losing. Everyone worked together as one team to make this special moment happen.
The opposing team, Briarwood Christian, couldn't have been better sports about the whole thing. Team member Jay Matthews said it was "an honor" to participate in making Pratt feel special.
"Usually, both teams clearing the bench is not a good thing, but seeing our guys running to the end zone to celebrate with Vestavia was uplifting and exciting. Our prayer is that the Pratt family was blessed, and I am sure this will be a beautiful memory for a long time for everyone involved."