California Veterinarian Treats Pets Of Those Experiencing Homelessness For Free
by Madison Vanderberg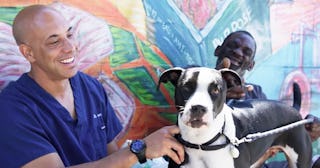 gofundme/Youtube
Vet provides free healthcare to homeless pets all over California
Dr. Kwane Stewart has been a practicing veternarian in California for the last twenty years, but for the later half of his career he's spent his free time providing free health care to homeless pets. On the weekends, Stewart travels around areas with high homeless populations and asking individuals if he can treat their pets. Sometimes, if he's driving home from work and sees a pet in need, he'll pull over and help.
He started his side hustle as the "The Street Vet" after the 2007 recession, telling CNN that "that was the moment for me career-wise that was enlightening. Up until then, I'd been practicing high-end medicine for clients who could pay for everything. But suddenly I was thrown into this economic war and people couldn't even afford to help their pets."
He started his operation in 2011 at a soup kitchen and anytime someone came by with a pet, he called them over and offered a free check-up.
"Before I knew it, I had a whole line," Stewart said. "There was something about it that I loved. I did it one more time before I decided to just take it to the street and walk to homeless people instead of waiting for them to walk up to me."
Stewart pays for most small medical needs himself, never charging the pet's owners, but if they need a serious surgery, he'll take to GoFundMe. Nine years later, he's still going strong, has turned his passion into a docu-series also called "The Street Vet," and just this month he was named a GoFundMe Hero.
"I don't ever want to have to turn anybody away," he says. "The look on people's faces when they get their pets back, especially after a surgery or a life-saving procedure  —  those are moments I'll remember forever," Stewart told GoFundMe.
With humble beginnings in Modesto, Stewart now travels throughout California on the weekends looking for people and homeless dogs and cats to help.
"The people I've met and the pets I've treated have all left an impression on me… and I hope I've renewed some of their faith in the goodness of people," he shared on Facebook.
Animals are man's best friend and homelessness should not bar individuals from experiencing the joy that only a pet can bring. Bravo to Dr. Stewart and his charitable work.
This article was originally published on