Amazon User's Vibrator Review Goes Viral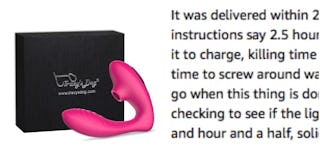 Amazon
This puppy has vibration and suction, what a time to be alive
If you're like me, you read the reviews on all Amazon products before purchasing because, while advertising is fun, you need real people to give you the down-low before spending your hard-earned dollars. If you ever want to read some, er, colorful reviews look no further than ones for women's pleasure toys. But one — oh one glorious review — has now firmly earned its place as the most hilariously truthful and detail-oriented review of all time.
Tracy's Dog clitoral stimulator is, by all accounts, the mack daddy of all vibrators. It boasts ten vibration patterns as well as a sucking and pulsing suction that works in tandem with the vibrations and a handle of sorts that "slips into the vagina and comes to rest alongside the g-spot and sensitive surrounding tissue." That sounds enjoyable.
The vibrator has 757 reviews to date and has earned four-and-a-half out of five stars for it's "life changing," "addicting," ability to deliver "prolonged orgasms," which is informative but not remotely as entertaining as one woman's now-viral detailed account of her first experience.
"It was delivered within 2 days of ordering, so it's already off to a good start. Opening the very discreet box, instructions say 2.5 hour charge time. Not too bad, I plug this lil bad boy in. While the kids are at school waiting for it to charge, killing time reading some erotica my friend and fellow queenie, recommended because I don't have time to screw around waiting to get into "the mood," she wrote. "I have to get the kids in a few hours and I need to be ready to go when this thing is done charging."
Hey, we've all been there. Pesky kids.
Once it was fully charged, it was game on for a little solo party.
"I found placement for the clit a bit low for my body shape, it took me a few min to get everything where it needed to be," she continued. "That was a bit time consuming and slightly frustrating. But as with any new toy, it's trial and error. I started the clit one on low, which I barely even felt. Unbeknownst to me it wasn't lined up 100%."
(That's an important point to take in for the next part of her review.)
"I decided to go from zero to 60 in 3.5. I hit the suction button setting to level 5 or 6 and hit the g spot button as well. And made a minor adjustment on suction placement. At least I think that's what happened because I'm pretty sure I blacked out. My legs went straight out like those goats who faint when scared."
FAINTING GOATS. Bless.
This vibrating/sucking wonderland is made of silicone, with a shaft that makes it "easy to explore your sugar walls and target your hungry-for-action G-spot." It's also hypoallergenic which my mom always told me to look for in earrings so I guess the same applies here? It's also USB rechargeable and powers up fully in about an hour-and-a-half. On a full charge you can use it for 60 minutes continuously but it sounds like based off the reviews you'd be near death or at the very least passed out cold with your face in a bucket of ice cream.
The happy customer went on to give us all some words of wisdom if we believe we're ready to purchase this vibrator. Make sure you know how to turn the buttons off because instead of turning it off, she accidentally turned the suction higher and believes she may have levitated:
"This time, my soul left me, and god himself said 'child, it is not your time, go back to the little pink light."
Amazing. She also recommends stretching beforehand "like you're about to run a 500-meter dash" which is solid advice at my age. All in all, this sounds like it's headed to the top of a lot of women's Christmas lists this year because we deserve it.
This article was originally published on