Rumor Has It Vicki Gunvalson Will Return To 'RHOC' Full Time Next Season
by Kristine Cannon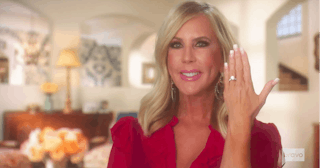 Bravo
Following Vicki Gunvalson's engagement on RHOC, rumors are swirling that she could return to the Bravo show full-time
This week on the Real Housewives of Orange County, we finally saw demoted cast member Vicki Gunvalson get engaged. Well, kind of.
We knew Vicki would say "I do" to her now fiancé, Steve Lodge; she broke the news on Instagram on April 26.
https://www.instagram.com/p/BwuaYVtBNkA/
During the episode, however, producers gave Vicki a quick, anticlimactic edit. Instead of watching how the proposal went down (apparently, Steve kept the proposal pretty low-key, popping the question after he made her dinner one night), Vicki flashed her 5.5-carat ring while chatting with the ladies at her home — and that was it.
Even Vicki's daughter, Brianna, who currently lives in North Carolina and looks better than ever and is feeling better than ever health-wise, to boot, was thrilled with her mom's engagement — a far cry from how she felt about Vicki's uber-controversial ex, Brooks Ayers, who not only faked cancer, but also hit on Brianna.
"She was so unsettled," Brianna says during the episode. "My mom's relationship with Don was good… but I don't feel like they were ever truly in love. With Brooks, my mom had all passion and nothing else. No respect, nothing else that really makes a true relationship."
What we didn't see coming, however, was Vicki's reported promotion to cast member next season. According to All About the Tea, Vicki issued an ultimatum to RHOC producers. "Vicki is going to be coming back as a full-time housewife next season," a source told Radar. "She gave Bravo an ultimatum. She said she would only come back if she were full-time, and they agreed."
This follows Vicki's claim during BravoCon that she wouldn't return to the show as a "friend of a housewife" again. "I'm never coming back reduced again. Let's just say that. I'm either in all the way, or out," Vicki said.
By the looks of it, some RHOC fans aren't supportive of Vicki's alleged full-time return.
Who appears to be the least supportive, however, is RHOC cast member Kelly Dodd, who recently got engaged herself and announced the news on Nov. 14.
And, as it turns out, the feeling is mutual: Vicki told HollywoodLife Kelly's engagement is "irresponsible."
"She just started dating him. She already asked Brian Reagan last season if she could get married. She wants to be married, so did I, but we're almost four years in. Personally, I think, it's irresponsible, but it's none of my business. You asked my opinion and as from that, I don't understand it," Vicki told the publication.
Vicki also seemed to insinuate that Kelly got engaged for a storyline. "I don't understand it. Is it a storyline? Is it because she has to be with him like, in a marriage situation, right away? She's known him three months? I don't understand that. What's the rush?"
Kelly was relatively quick to respond to Vicki's statements, saying she's the "last person who would need to get engaged for a 'storyline.'"
"Seeing as almost all the girls on #RHOC use ME for THEIR storyline I think I'm the last person who would need to get engaged for a "storyline" – not everyone has that calculating mindset… & for the millionth time please stop constantly bringing up my daughter in your interviews," Kelly tweeted.
Whether Vicki returns full-time or not, RHOC is certainly much more interesting off the show and on Twitter; and by the looks of it, the Vicki-Kelly feud-saga isn't ending anytime soon.
This article was originally published on