These Are The Men Who Died Trying To Stop A Racial Attack On 2 Women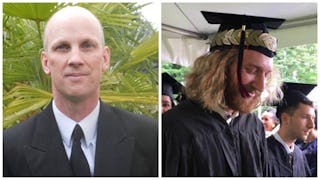 Images via Facebook and Twitter
The men died defending two young women from a racist hurling hateful words
This past Friday, two men were stabbed to death and another was injured by a member of the alt-right movement who was shouting hateful slurs at two young women. The trio was trying to defend the women.
Details of the victims' lives are emerging in the wake of the tragedy as friends and families remember them as the heroes they are.
According to BuzzFeed News, Ricky John Best, 53, and Taliesin Myrddin Namkai-Meche, 23, were killed and Micah David-Cole Fletcher, 21, is currently hospitalized for his injuries. They were all riding a commuter train in Portland, Oregon when they witnessed a man verbally attacking the girls, who appeared to be Muslim.
The alleged attacker is 35-year-old white supremacist Jeremy Christian, who has been arrested and charged with two counts of aggravated murder, two counts of second-degree intimidation, and being a felon in possession of a restricted weapon.
BuzzFeed reports that shortly after 5pm on Friday, Christian was ranting on the train using what Portland police Sgt. Pete Simpson says could be "characterized as hate speech or biased language" toward two young girls, one wearing a hijab. That's when the three men stepped in to try and stop him with two losing their lives in the process.
After the attack, Namkai-Meche's mother spoke out on Facebook about her son's passing.
Asha Deliverance writes, "Taliesin Myrddin Namkai Meche, My dear baby boy passed on yesterday while protecting two young Muslim girls from a racist man on the train in Portland. He was a hero and will remain a hero on the other side of the veil. Shining bright star I love you forever."
Though it's difficult to imagine her heartbreak, Namkai-Meche's family is focusing on the incredible man he was and the fact that he died doing the right thing. His sister, Vajra Alaya-Maitreya, tells BuzzFeed, "We lost him in a senseless act that brought close to home the insidious rift of prejudice and intolerance that is too familiar, too common. He was resolute in his conduct and respect of all people. In his final act of bravery, he held true to what he believed is the way forward."
Namkai-Meche recently graduated from Reed College with a degree in economics and was interning for a consulting company at the time of his death.
His sister says, "He will live in our hearts forever as the just, brave, loving, hilarious, and beautiful soul he was. We ask that in honor of his memory, we use this tragedy as an opportunity for reflection and change. We choose love."
"Safe journey, Taliesin. We love you."
Best was a father of four and Portland city employee working as a supervisor in Portland's Bureau of Development Services. According to The Oregonian, he served 23 years in the military, retiring from the Army in 2012 as a platoon sergeant for Corps maintenance.
His supervisor, Kareen Perkins, describes Best as a dedicated employee who spoke lovingly of his wife and four kids. He was also admired by his co-workers. "He was always the first person you would go to for help. I've talked to most of his coworkers today, and several of them said it's just like Rick to step in and help somebody out," says Perkins.
Fletcher, who remains in the hospital with injuries being termed as "serious," is described by friend Elie Hoover as "deeply empathetic," often stepping in to defend others for reasons both big and small. "Whether its someone cutting in line, or doesn't tip, or if its something big like someone being overtly racist," Hoover explains. "I was shocked it was him, but I wasn't surprised it was him. I can't see him not standing up."
Mandela Cordeta, a friend of Fletcher's for 10 years, echoes Hoover's words saying, "He's just against injustice, that's his personality." Cordeta also shares that if there is a march or protest, Fletcher is the first to rally people to attend. "He's always showing up," she says.
There are GoFundMe campaigns set up to help the victims and their families. One was established by a good samaritan with no personal connection to the the men and another by a friend of Fletcher's.
When we hear about these horrible tragedies, it's best to focus on the good, which is definitely what these three men represent. Our thoughts are with their friends and families.