These Are The Victims Of The Santa Fe School Shooting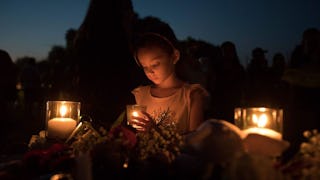 Image via AFP/Getty Images
Eight students and two teachers killed in Texas school shooting
Ten people were killed during a school shooting at a high school in Sante Fe, Texas on Friday. The alleged shooter, 17-year-old Dimitrios Pagourtzis, was taken into custody following the massacre. The Galveston County Medical Examiner's Office and the Galveston County Sheriff's Office have now released the names of the students and staff members of Santa Fe High School who were killed in yet another school shooting.
Chris Stone, 17
Chris Stone, a junior, was in art class on Friday morning when the shooting started. Stone was a center on the school's football team. He was a "nice, outgoing kid," 17-year-old Aidan Gomez told BuzzFeed News. "He was down-to-earth, and liked football, to hang out with friends, and relax." Mass shootings are hectic nightmares for everyone involved and Friday was no different for the kids who attend Santa Fe High School. Stone's friends couldn't find him and spent the day trying to track him down. "We called about nine hospitals trying to figure out where he was at and none of them knew," 17-year-old Nick Swift told BuzzFeed News. "I've known him since I was seven. Everybody loved him. There's nothing bad you can say about Chris."
Sabika Sheikh
Sabika Sheikh, a Pakistani foreign exchange student, was killed during the shooting, the Associated Press reported. Sheikh was visiting Texas as part of the Kennedy-Lugar Youth Exchange & Study Abroad (YES) program. The U.S. State Department sponsors the program. "Please know that the YES program is devastated by this loss and we will remember Sabika and her families in our thoughts and prayers," Megan Lysaght, manager of the YES program, wrote in a letter to students. It's unclear how old Sheikh was but a photo of her wearing a Texas shirt and smiling has been shared on social media several times since the shooting. She had less than a month before she was set to return to Pakistan for Eid al-Fitr, a three-day holiday at the end of the holy Muslim month of Ramadan.
Angelique Ramirez
Angelique Ramirez's family took to social media on Friday to ask for help finding the student. "All we got info on is that she was shot in the leg. Cannot find her at any local hospital," Ramirez's aunt, Sylvia Pritchett, wrote on Facebook. She later updated the post to let people know Ramirez has passed away. "With a broken heart and a soul that just can't process all this right now, I have to announce my niece was one of the fatalities," Pritchett wrote. "Please keep all the families in your thoughts, and hug your children tightly." Coworkers of Ramirez's mom set up a GoFundMe page for the family. "Angelique proved to be a kind, compassionate and caring individual," they wrote. "[Her] smile was contagious and brightened up any room she walked into. In losing Angelique, her friends and family lost so much."
Shana Fisher, 16
Shana Fisher, who just turned 16 on May 9, was in art class when she was shot and killed. Her mother told reporters that Fisher was "beautiful, smart, funny, and talented. She loved life and her dog Kallie. She was shy and sweet. She had a lot of love in her heart." The teen's aunt took to Twitter on Friday when the family couldn't locate Fisher. Having later learned that her niece died in the massacre she wrote, "Shana turned 16 on May 9th. She should be getting her first car, not a funeral." Fisher's family told reporters their daughter loved art – especially anime, KHOU reported. They believe Fisher was one of the first people to be killed on Friday. Fisher's family hasn't been allowed to see her yet. The teen's autopsy is scheduled for Monday.
Aaron Kyle McLeod, 15
Aaron Kyle McLeod was a 15-year-old Santa Fe High School student. Media reports said McLeod was in art class at the time of the shooting. No parent should worry that their child will lose his or her life at school. After the Sante Fe school shooting, it officially became more dangerous to go to school in America than to serve in the military. The number of students killed in school shootings is more than military casualties for 2018 including service members who died outside of combat.
Jared Black, 17
Jared Black, who had just turned 17, was supposed to be having his birthday party this weekend. He was killed during the mass shooting, family friend Elizabeth Ann McGinnis told CNN. Black's father "sat in misery for 13 hours not knowing if (Jared) was one of the victims," McGinnis said. "Then he got the devastating news after 6 p.m." A GoFundMe was set up for Black's family, who mostly live in California, to help raise funds for their travel costs back to Texas for the funeral. Black had spent last summer with his dad, two brothers, and stepmom in California, McGinnis said. The family said the funeral costs for Black, and all of the shooting victims, will be paid for by Texans defensive end J.J. Watt.
Christian Riley Garcia
Christian Riley Garcia died trying to save others in the Sante Fe mass shooting on Friday. "From what we've gathered thus far he got in front of other students and barricaded the door," his aunt, Sarah Saunders, told KHOU. "He laid down his life so others could have a chance." She said her nephew felt his life's purpose was to serve others. He had planned to enlist in the military when he was old enough to do so. "He had the biggest heart and the biggest chunk of ours feels to have left with him," Saunders said.
Kimberly Jessica Vaughan
Kimberly Jessica Vaughan was in art class when her life was cut short. Her mother, Rhonda Hart, took to Facebook Friday morning in an attempt to locate her daughter. She later expressed her completely understandable disgust with our politicians for failing to pass reasonable gun control. "Folks-call your damn senators. Call your congressmen. We need GUN CONTROL. WE NEED TO PROTECT OUR KIDS," she wrote. "We need to fight for our kids. This is complete bullshit."
Ann Perkins
Ann Perkins was a beloved substitute teacher who was shot and killed in the mass shooting at Santa Fe High School. Friends shared memories of Perkins on social media including a photo of her Substitute Teacher of the Year award for the 2016-2017 year. CBS reported that Perkins was a well-loved figure at school and in her community and was sometimes called "Grandma Perkins." A friend took to Facebook to share the news of her passing: "Ms. Ann has passed away as a result of today's tragic events. She was an amazing mom and an adored substitute who was loved by all."
Cynthia Tisdale, 63
Cynthia Tisdale was also a frequent substitute teacher at Santa Fe High School. She was killed in the attack on Friday. "She started substitute teaching because she loved to help children," her son, Recie Fisher, told The Washington Post. "She did it because she loved it." The 63-year-old was a mother of three and grandmother of 11. Her brother-in-law, John Tisdale, said she took on a second job as a server to help pay for medical bills for her husband who was diagnosed with idiopathic pulmonary fibrosis. Tisdale's niece, Leia Olinde, said she had "never met a woman who loved her family so much."
This article was originally published on