Hilarious Video Nails The Life Cycle Of Breasts After Babies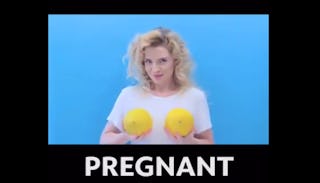 Image via Facebook
This video sums up the journey of your breasts from pregnancy to postpartum
Pregnancy and breastfeeding can bring about a number of changes in a woman's body — not all of them welcome. This funny video showing the stages of a mom's breasts after babies will feel all too real for any of us who've been there.
Facebook page Breastfeeding Mama Talk shared a video from Polish blog SuperStyler depicting the life cycle of a mom's breasts — from the perky pre-baby days to the sad, deflated, post-breastfeeding days. This might not be the case for every woman, but it will look familiar to most of us. Behold.
First, there's the gleeful and smug pre-pregnant years where you happily showcase your lovely and pert navel oranges without a care in the world. Join me in forgetting those years. They're over for now and I prefer not to think of them.
Then, there's the happy surprise of early pregnancy knockers that have more heft and perk to them than you ever thought possible. They just keep growing and you might even stock up on low-cut maternity wear to emphasize what's now unquestionably your best feature.
And then, boob life starts to get a little rough. For some moms, nursing means all things might not be created equal. I was one of those moms. Because babies sometimes want to nurse on only one side. And you're left with a giant melon and a B-cup avocado. Sigh.
Finally, the end result. So many tears.
For those of you unsure of what your boob future holds, I'm happy to report that though I sported empty banana peels for a while after nursing my son, they did eventually return almost totally back to normal. Almost. It is what it is, ladies. We do what we can with what we're left with. For everything else, there's push-up bras.
Obviously, this cycle of fun-bag sadness isn't the case for every mom. There are some unicorn women who never experience Lopsy Breast while nursing (thanks, kid who only wanted lefty) and who swiftly return to their pre-baby jugs after birth. For those of us who don't, it's nice to laugh about it since there's very little we can do to prevent it.
And of course, even knowing the depressing aftermath, we still wouldn't change a thing.
This article was originally published on