Horrific Vid Of Trump Gunning Down Press Plays At Pro-Trump Conference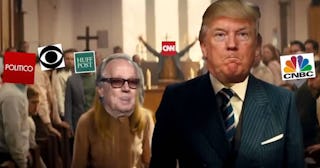 yashar/Twitter
The macabre video looks to be part of a re-election initiative by the pro-Trump group American Priority
Video of a fake President Trump shooting, stabbing, and assaulting press members and many of his adversaries was shown at a conference center for his supporters at his Miami resort last week outraging many, including Cindy McCain who says the clip violates, "every norm our society expects from its leaders."
According to The New York Times, the conference was put on by a pro-Trump group called American Priority. The three-day event included keynotes from his son, Donald Trump Jr., his former spokeswoman Sarah Huckabee Sanders, and the governor of Florida, Ron DeSantis. It's not clear when the video was shown, but Ms. Sanders and a person close to Mr. Trump's son have both spoken out to say they'd not seen the video after it surfaced on social media.
https://twitter.com/jetpack/status/1183554549996503040
The video appears to be marketing Trump's 2020 re-election campaign and uses a series of memes showing the president opening fire inside the "Church of Fake News." In the church, parishioners have the faces of many of his critics or the media logos of companies he's waged war on in the past, calling them "fake news," such as PBS, NPR, Politico, CNN, and NBC.
Trump's Press Secretary Stephanie Grisham tweeted about the video, saying Trump was unaware and had not seen it, but that "based upon everything he has heard, he strongly condemns this video."
The violent two-minute, twenty-second video shows the president pulling out a gun in the middle of the church and shooting people point-blank, including a Black Lives Matter member and someone from Vice News. As several church members try to stop him, he continues by hitting the late Arizona senator John McCain in the back of the neck, stabs Rosie O'Donnell in the head, and then sets Senator Bernie Sanders on fire, among other outrageous acts to Senator Mitt Romney, former President Barack Obama, Bill and Hillary Clinton, and Representative Adam B. Schiff, and many others.
The video ends with Trump putting a stake into the head of a person with a CNN logo for a face.
The video is similar to one Trump tweeted out in July 2017, which showed a cartoon version of himself wrestling and body-slamming CNN's logo and beating it up. He is also continuously calling out the media and making threats against them and his political opponents and incites violence in his followers at rallies and on social media.
Hours after he wondered about whether Adam Schiff should be "arrested for treason," for launching the impeachment proceedings, a 53-year-old mother of four in Wisconsin retweeted Trump's post to her few hundred followers, saying, "SHIFTY SHIFF NEEDS TO BE HUNG," The Philidelphia Inquirer reported.
He often demonizes the news media, vocalizing his disdain for anyone who challenges his presidency or decision-making, saying just this past Friday at a rally (via The New York Times) that there was an "unholy alliance of corrupt Democrat politicians, deep-state bureaucrats and the fake news media."
American Priority responded to the video, claiming it was not "approved, seen or sanctioned" by the conference organizers, dismissing news outlets for concentrating on the video and not discussing their "panel conversation LITERALLY condemning political violence." As of now, Trump has not publically condemned the video.