Video Shows Florida Cop Punching 14-Year-Old Girl Pinned To The Ground
by Jerriann Sullivan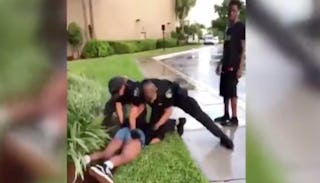 Image via Twitter/ABC6
Cameras caught cop punching a child who he had pinned to ground
Cameras caught a Florida cop punching a 14-year-old girl, who he had already pinned to the ground, while she was laying on her stomach. An additional police officer is seen in the video helping pin the child to the ground while the male officer repeatedly punches the girl.
Cops were called to the Coral Square Mall on Thursday because allegedly there were unruly teens who had been harassing people. According to police, the teens were given a trespassing warning but returned to the mall. Police claim the girl cursed, fought, and resisted arrest.
The name of the officer seen using excessive force on the teen has not been released yet. Since the video has gone viral, it's been reported that he works for the Coral Springs Police Department, which is roughly 30 miles northwest of Fort Lauderdale. The name of the girl who was accosted has not been released because it is standard practice to not share the names of minors in media reports. Her mother, Jessica Dennis, told WSVN-TV it was difficult to watch the video. At least someone caught the encounter on camera, because that means there is a chance that this police officer will be held accountable.
"She clearly wasn't aggressive. Everyone could see she was laying there," Dennis told reporters. "So I just want justice to be served." The teen's mother hired attorney Meeghan Moldof, who explained to reporters what happened in the encounter. "It's clear from the video that my client was on the ground," she said. "Her hands are under her belly, the officer's knees are on her back, and he's just gut-shotting her, like one after another." In the video, you can hear someone yelling: "Why you hitting her? She can't do that, her hands underneath her, the f*** you hitting her for?"
The police officer — so far — has only received support from his department. The department claims that understanding the reason why the cops were called is justification for the officer's actions.
"Such excessive force by police is particularly disturbing given its disproportionate impact on people of color," the ACLU says about police brutality on people of color. The nonprofit "fights for a country where law enforcement treats all communities with dignity, employs restraint on police power, and uses only the degree of force necessary to maintain the community's safety."