Disturbing Video Will Have You Buying Furniture Anchors, ASAP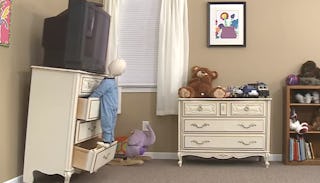 In the wake of a third child death related to IKEA dressers, parents are starting to understand the hazards unsecured furniture can pose for their kids. These deaths are tragic all the way around but mostly, because they're so easily prevented if a parent is equipped with the right information.
The Consumer Product Safety Commission issued a helpful video last year demonstrating the various ways furniture can tip and crush a child, causing injury or even death. It also explains in detail how to prevent these tragedies using a simple kit to secure furniture.
Fair warning — even though a dummy was used in the video demonstrations, it's still pretty upsetting to watch. I cringed the whole way through. Check out the video here.
How many of us have arrangements like this in our home, or maybe at a grandparent's home? It's easy to overlook when we're so busy child-proofing every inch of the house, but TVs or anything heavy on top of dressers can pose a tipping hazard, along with the dressers themselves. All a child has to do is open a bottom drawer to get his footing and start scaling to the top. It's terrifying to consider, but it happens all the time. According to the Consumer Product Safety Commission, a child is injured every 24 minutes by falling furniture. That's a very disturbing statistic.
Luckily, the kits to secure furniture to the wall are very cheap and easy to find. Check out this $12 number from Amazon. Maybe order a dozen or so and attach them to every baby shower gift you give. It's well worth it when you consider the alternative.
Normally, I'm not one to preach when it comes to child-proofing. Everyone is free to use their judgment and deal with potential hazards in their homes as they see fit, but this is one area where we should probably all talk to our friends and family about this simple step to prevent future tragedy. It's something not everyone might think of — until it's too late.
Sadly, a child from my son's old daycare passed away after scaling a dresser to reach the TV and put in a DVD — the entire dresser and TV crushed her with her mother only a room away. It was horrifying to hear, but that was all it took for myself and several other parents we knew to reexamine our own homes and be sure we had our furniture secured. It's terrible that it took such an awful tragedy to drive home how dangerous unsecured furniture can be, but at least now it won't happen to our children too.
And I don't want it happening to yours.
Please watch the video and if you need them, buy the kits. Secure your dressers and make sure heavy TVs aren't positioned in a way that a child could accidentally pull them down and be crushed. Talk to your parents, your childcare provider, your friends, your neighbors — it's absolutely worth it so no more kids are injured or killed by something so easily fixed.
This article was originally published on