Here's The Video Of The Gender Reveal That Ignited A 47,000 Acre Wildfire
by Valerie Williams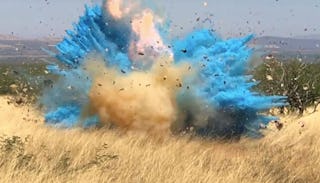 Image via Facebook/US Forestry Service
Video shows the "gender reveal" target full of explosives going up in flames which eventually caused a widespread wildfire
We don't like to harsh anyone's buzz, but gender reveal parties are generally not something received with a bunch of excitement these days. They're falling out of vogue as woke folks are starting to refuse to box in a baby based on their genitalia at birth — and frankly, if we're already buying a shower gift, we'd rather not have to buy one more present. But now, we have a whole new reason to hate on this modern tradition — a recent gender reveal ignited a huge wildfire in Arizona, destroying thousands of acres.
Because if you're going to be a careless nitwit, go big or go home, right?
A few months ago, news spread (like wildfire, thank you, I'm here every Wednesday) that last year's 47,000-acre Sawmill Fire was caused by a genius who used a high-powered rifle to fire at a target that had been packed with a highly explosive substance called Tannerite — all in the name of a very, um, memorable gender reveal.
Now, there's video of the moment when a dad-to-be took his big shot. In the Arizona desert. Where there's tons of dry tinder just a-waitin' for a spark. Like we said, obviously, we're not working with a whole ton of brain cells here. Just…watch.
The explosive target is visible at first with the words "Boy" and "Girl" written on it, and again, not to labour the point, IT'S IN THE MIDDLE OF THE FREAKING DAMN DESERT. Then, we hear the gunshot and the target goes up in a cloud of blue smoke and then, the fire starts. Someone shouts "Start packing up!"
You think?
The fire happened back in April 2017 and according to CNN, firefighters from 20 different departments were involved in fighting the fire, which took about a week to extinguish. The damages to the Arizona-owned land total more than $8 million.
But…YAY! It's a boy!
Dennis Dickey is the proud papa who shot the target and he's actually a border patrol agent (off duty at the time), so someone in a form of law enforcement apparently still had no earthly idea that shooting a target packed with explosives in the dry-ass Arizona desert could possibly cause a little tiny fire problem. He pleaded guilty in September to a misdemeanor violation of US Forest Service regulations and is now on probation for the next five years. He was also ordered to pay $8,188,069 in restitution, with an initial $100,000 payment and the rest coming in monthly installments down the road.
The internet is overall pretty amused by the debacle.
As part of his sentence, Dickey also has to participate in a public service announcement with the Forest Service about the chances of a super ill-conceived gender reveal idea burning up thousands of acres of state land. We hope future parents with a similar plan in mind take heed.
This article was originally published on