Parents Release Video Of Doctor Dropping Newborn After Delivery
by Cassandra Stone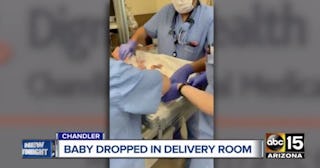 YouTube/CBS Philly
The couple says they never received an apology from hospital staff
An Arizona couple is speaking out after a video they posted on social media has gone viral. The video, which was recorded after the delivery of the couple's twin girls, shows a hospital staff member dropping one of the newborn girls in the delivery room.
Monique and Derrick Rodgers decided to share the video on Facebook due to feeling frustrated with the lack of answers from the Chandler Regional Medical Center. They say they never even received an apology.
Warning: the video may be upsetting to some viewers.
Derrick was recording the video and captured the terrifying moment as it unfolded moments after his twin girls, Madison and Morgan, entered the world. In the video, Morgan is seen falling from a hospital employee's hand onto a table below. Nurses and other staff members grabbed her to prevent her from falling from the table onto the floor. It's a terrifying few seconds for anyone watching, but especially for Derrick and Monique.
"My twin girls were born 2/14/19 at Chandler Regional in Chandler, AZ and my daughter Morgan was dropped on her head due to the negligence of the staff," Monique writes on Facebook. "I was never notified she was dropped nor were there any tests done due to them dropping her. I would like to prevent this from happening to other children being born at this hospital."
To make an already awful situation worse, the Rodgers' say the lack of reaction from staff is frustrating. "I feel like she was treated like a sack of potatoes," Monique tells ABC15 News.
Derrick confronted the staff member immediately after the incident. "I told him, 'You dropped my baby.' He had like a nonchalant look on his face. Then I showed him the video, and he had nothing to say after that."
In the Facebook post, Monique says baby Morgan spent 12 days in the NICU of the hospital for being only 3lbs, 4oz at the time of birth. "A head ultrasound was done on day 5 and I was also not notified that this was being done due to her low birth weight and I was never given the results of this test," she writes. "She has a grade 1 hemorrhage on the left side of her brain and I am not sure if that was due to her being dropped or her low birth weight. I did not find out that this test was done and the results of this test until this past Saturday when I brought up a different concern to her doctor."
Regardless of the cause of the hemorrhage, the parents have a right to know every single detail surrounding their newborn daughter's health. Anything less than full disclosure about everything and full cooperation is unacceptable. While brain hemorrhages do occur in premature babies, complete transparency and an apology should have been the go-to reaction from the hospital staff.
"An apology goes a long way. Like a, 'Hey, I do apologize, I feel for your family that we dropped your baby. How can we help out and relieve this situation or give you some kind of peace at mind? Can we do tests?'" Derrick tells PEOPLE. "But none of that was said. It was all done behind our backs."
The hospital sent ABC15 the following statement:
"Because of patient privacy laws and a request from the family not to release information, we are unable to comment specifically on this matter. The safety of our patients and their families is always our top concern. The medical team at Dignity Health Chandler Regional Medical Center takes this matter extremely seriously and is working to conduct a comprehensive review."