Video Shows Denver Police Officers Taking Blankets From The Homeless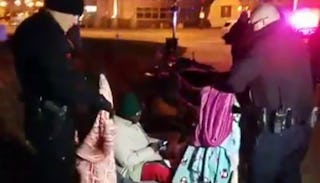 Image via Facebook.
Officers have been taking survival gear from people suffering from homelessness, video shows
Denver police officers were recently caught on video taking blankets and other survival gear from homeless people during brutally cold weather. During this time of year, temperatures in the Colorado city range from lows of -7 degrees to 34 degrees. It's beyond cruel to see officers who are meant to protect and serve all people taking away survival gear from our neediest citizens.
A local business owner, Kayvan Khalatbari, captured video of police taking belongings from the homeless on November 29, Westword reported. The group of people were kicked out of the Ballpark neighborhood by officers and then setup camp for the night in front of the City and County Building as a protest. Police took their blankets and claimed they needed them as evidence in ongoing cases against the individuals.
No one wants to be homeless. No child grows up thinking, "I can't wait to live on a sidewalk in freezing cold temperatures wondering where my next meal will come from." Sometimes one unexpected catastrophe – job loss, medical emergency, near death accident – can leave someone with no other options. We all know this, but as a society we demonize victims of homelessness while enacting cruel laws that only make their lives harder.
While Denver police haven't responded to the video surfacing online, Denver Mayor Michael Hancock has been making the rounds at local news outlets to comment. "The confiscation of the blankets and tents is not a widespread practice of the police department. The reality is we had three individuals who were protesting, were camping out in front of city hall after repeated requests to move along they were cited," he told 9NEWS. "Once they were cited, now you have proceedings that must follow and they needed evidence to go with those proceedings."
Thankfully, an outspoken lawyer has joined the discussion in an effort to protect these homeless citizens. "The seizure of the property itself violates the United States Constitution, the fourth amendment. So what they are trying to do is backdoor in due process protections to the seizure of property which is impermissible," explained attorney Jason Flores-Williams, who is suing the city over its homeless camp cleanups. "It's all they own in the world. It's all they have for survival. It's all they have as far as their home," he added.
"The mayor reiterated this morning that the camping ban is a health and safety issue," reports W9 News. "There are hundreds of beds open in even the coldest nights but that's not always an option for some people." Exactly. There are many reasons why the homeless refuse to go to shelters: safety and being separated from their families are just a few. Are we saying that we need to force the homeless into hypothermia so they'll obey?
While the mayor has told the police to stop taking away blankets and tents from people living on the street, it's only for the moment. Denver cops will once again take these citizens' only possessions when the weather is slightly warmer in April, according to media reports. Thankfully, advocates like Flores-Williams aren't going anywhere. "I already knew this was going on," he said. "But now, hopefully, the courts and the people of Denver will see this is going on and decide to rise up and do something about it because this isn't who we are."
If you're interested, you can help Denver residents suffering from homelessness by donating or volunteering with the Colorado Coalition For The Homeless.