Amazing Video Of Premature Twins Holding Hands Goes Viral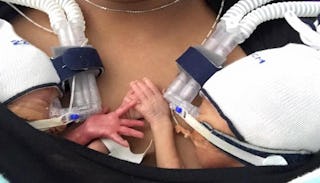 This video of premature twins holding hands is taking the internet by storm.
We've all heard people ask twins if they can read each other's minds or poke fun at the special connection they share, but a pair of Australian preemies put that unique bond on display like never before. In a now-viral video, the two newborns are seen holding hands, and even sweeter, they refuse to let go.
Anthea "Cookie" Jackson-Rushford gave birth to her twins, Kristian Ian and Kristiana Micaela, 11 weeks before her expected due date. Born at only 28 weeks gestation, each weighed about two pounds, but their small size and early entry into the world didn't stop them from fighting to stay together. Soon after their birth, their parents began posting videos of them holding hands at every possible opportunity. First while doing skin-to-skin time on their dad's chest:
And then again a few days later while lying on their mom:
In a Facebook update, Jackson-Rushford wrote that while it may be "a tad bit disturbing seeing our twins with tubes," it's a normal thing with premature babies, and she wanted to share her photos and videos "for the simple reason that it gives hope to all parents out there that they [premature babies] do just fine!" She adds, "To all parents that face this, be comforted in knowing that today anything is possible!"
Since the original video went up, it's been viewed an incredible 7.4 million times and over 150,000 people have shared it. The Jackson-Rushfords haven't responded to media requests for more information about their babies, which is totally understandable, as they likely just want peace to bond with their children and get through this very difficult period in their lives. Plus, the videos and photos say everything that needs to be said: these babies are bonded and fighting, and their parents are doing all they can every step of the way.
According to BabyCenter, babies born at 28 weeks gestation are usually too immature to be able to suck, swallow, and breathe at the same time, so they must be fed intravenously. They also can't yet cry and they sleep most of the day. Most surprisingly, these babies have very little muscle tone and most can barely move. For these twins to not only hold hands, but to continually reach out to one another is completely amazing and just goes to show that premature babies really are little fighters.
It's heartwarming that these twins have such an incredible bond already, and even sweeter that their parents thought to share it with the world. I'm sure there are many, many parents of preemies out there who were touched by the footage. Best wishes to this adorable family on their journey to get their babies home.
This article was originally published on