Video Shows Toddler Twin Rescuing His Trapped Brother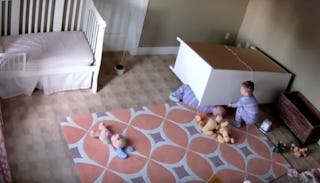 Brotherly love is captured on camera as a young boy pushed a fallen dresser off his trapped sibling
A family's home surveillance video captured footage of a little boy trapped under a fallen dresser, and his older brother's successful efforts to free him. It's not the kind of video any parent wants to watch.
The brothers are Brock and Bowdy Shoff, and they live in London with their parents, Ricky and Kayli. The full video is two minutes long, captured on a home surveillance camera, and it wasn't something Ricky and Kayli were initially planning to share, according to an article on CNN.
"We were hesitant to post this video initially," said Ricky, "but a lot of parents have probably made the same mistake that we made, (they) don't have their furniture secure or bolted to a wall."
The video is short and silent, but it's harrowing just the same. We don't see the dresser fall, but it's immediately clear that it's heavy, and that Brock can not get free. At least not by himself.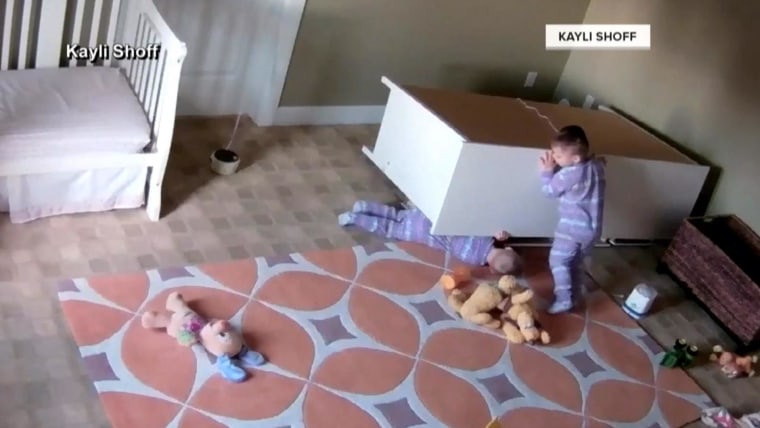 Luckily, his older brother Bowdy is in the room, and Bowdy is one cool customer. He calmly surveys the situation, considering his options without panicking, before eventually trying to lift the dresser off his sibling. It's too much for him, obviously, but he doesn't give up. He tries pushing the dresser off his brother, and this time it works.
Somehow, neither of the boys had a scratch on them. In fact, the parents had no idea anything had happened until Kayli stumbled across the video a little while later. "We didn't hear anything, we normally hear them throwing their toys, they are super mischievous," Ricky told CNN. CNN has an extended video that shows the toddlers climbing into the dresser drawers, causing the dresser to tip.
I have two sons, and despite the fact that there is a five-year age gap, it's apparent how much they love each other. (Maybe because of the fact that there's a five-year age gap!) I can only hope that if something like this were to happen in my house, my kids would look out for each other the same way Bowdy looked out for Brock.
"It's kind of a miracle, it's something really special, to see how Bowdy helped Brock."
The bond between siblings is pretty complicated – one minute you're at each other's throats, the next your risking your life to save theirs. It's pretty remarkable that the Shoff brothers have such amazing evidence of that bond at such an early age.
"We are so grateful for the bond that these twin brothers share," Ricky Schoff concludes his Facebook post. "Please make sure all your dressers are bolted and secured to the wall."
This article was originally published on