Newly Surfaced Video Shows Trump Bragging About Kissing TV Host Without Consent
by Cassandra Stone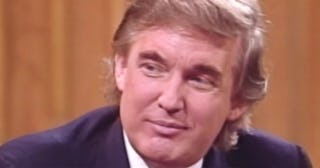 MSNBC/Youtube
Once again Trump is caught on tape, readily admitting to assaulting a woman
In another newly resurfaced video, Donald Trump admits without hesitation that he assaulted an NBC talk show host by forcefully kissing her, open-mouthed, without her consent. The tape, from 1992, is from Faith Daniels' "A Closer Look" program — which he says he only agreed to appear on because of the assault.
The video appeared as part of last night's Rachel Maddow program on MSNBC. He apparently assaulted Daniels during a charity event, where her husband was also in attendance. In the video, Trump describes his aggressive, not-at-all-mutual kiss: "It was so open and nice."
Daniels appears to laugh it off nervously, and offered her own version of what happened. "You kissed me on the lips in front of the paparazzi," she says on-air. "And I said, 'That'll cost you. I'm booking you on the show.'"
Here's an image of Trump kissing Daniels at the 5th Annual Gourmet Gala To Benefit NYC March of Dimes at Plaza Hotel in November 1992.
In case you're not thoroughly disgusted by his chronic predatory behavior, there's more. At the time this video was recorded, Trump was newly single after his divorce from his first wife, Ivana. Which means he was operating at maximum inappropriate behavior. He wasted no time in complimenting host Daniels on her body while discussing who he'd like to date next.
"I think my choice might be you," he said. "Look at the legs on her. Boy, oh boy. Could be you. I'd prefer a beautiful woman to a non-beautiful woman. And I know that's discriminatory. I know people say, 'How horrible. He's a horrible human being to say that.' But I tell you what, men, raise your hands. Does anyone disagree with me?"
Ugh.
Interestingly, Daniels asks Trump if he'd ever consider a run for the presidency. He says it's unlikely because of his interest in "beautiful women." (Subtext: "I'm a predator and I've done some awful, horrible things to multiple women and I don't want all of that coming out." Fortunately for him, none of that seemed to matter 24 years later, did it?)
As we all know, this is hardly the first time Trump has been caught admitting to sexual assault on tape. A month before the 2016 election, another video resurfaced where he described forcing himself on a married woman and admitted when he sees a "beautiful woman" he simply cannot stop himself from committing sexual assault. "I just start kissing them. It's like a magnet. Just kiss. I don't even wait." Kissing, grabbing genitals, you name it — he's admitted to it.
During her segment on the Faith Daniels video, Maddow also showed a clip from the accused serial sex-trafficker Jeffrey Epstein's party at Trump's Mar-A-Lago resort back in 1992. That particular video has garnered multiple headlines this week for clearly showing Trump and Epstein were well-acquainted. You can see Trump dancing with one woman, then aggressively pulling her close while he appears to kiss her on the mouth.
Though Trump and Epstein's connection was never disputed by either party, Trump tried to shrug off their connection after Epstein was charged with child sex trafficking earlier this month. In his typical gaslighting fashion, Trump told the media he "never liked the guy."
Hmmm.
He's been accused of sexual assault and rape by multiple women through the years. He's openly racist and endangers the lives of innocent immigrants and black and brown people every single day. He's actively trying to ban a U.S. citizen and congresswoman from the country and emboldening racists nationwide in terrifying ways.
There's more than enough evidence to impeach him. Let's hope our elected officials stop dragging their feet and make predators like Trump finally suffer the consequences of his actions.